Last chance to see: Frank Bowling's transatlantic takeover
Frank Bowling's inaugural exhibitions with Hauser & Wirth London and New York celebrate six decades of the artist's innovative abstraction. Catch the shows before they close, on 30 July (Hauser & Wirth New York) and 31 July (Hauser & Wirth London)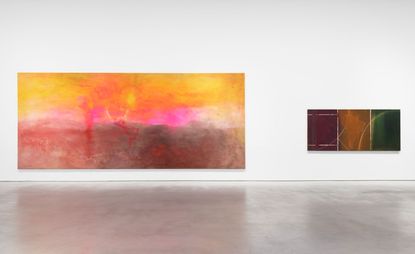 (Image credit: Thomas Barratt)
During the last decade, Frank Bowling has, at long last, enjoyed belated recognition. In the last two years alone, the modern master received his first retrospective at Tate Britain and was Knighted on the Queen's Birthday Honours List. The attention on his work, albeit overdue, is only crescendoing.

In the latest chapter of Bowling's six-decade ascension to acclaim is a transatlantic takeover of Hauser & Wirth galleries in New York and London, on show until 30 and 31 July respectively. These mark the artist's inaugural exhibitions with the gallery since joining its roster in 2020. With works spanning 1967 to the present day, 'Frank Bowling – London / New York' captures how one artist's inventive approach to the physicality of paint pushed abstraction to its limits.
As their titles suggests, the simultaneous shows follow Bowling's life and work between the UK and the United States spanning half a century. Born in Guyana (then British Guiana) in 1934, the artist arrived in London in 1953, graduating from the Royal College of Art in 1962.

He later shuttled between the art scenes in London and New York, maintaining studios in both cities. London is where Bowling trained as a painter. But while his modern contemporaries including David Hockney, Pauline Boty and Patrick Caulfield were parting the art waves in Britain, Bowling – for reasons unclear, but certainly unrelated to the depth of his artistic output – mainstream success didn't arrive – arguably one of the greatest artistic oversights of the last century.
The shows span Bowling's early engagement with expressive figuration and pop art, to his distinctive blend of poetry and abstraction that continues to evolve today. Visible in his work are the legacies of the English landscape painting traditions of Gainsborough, Turner and Constable. But in 1960s New York, Abstract Expressionism was stirring and Bowling was greeted with a new wave of garish colours and gestural improvisation. He was also met with new dilemmas as the Civil Rights Movement intensified in a city where divisions between the art of Black and white artists remained stark.
RELATED STORY
Bowling would often begin a painting in one city and finish it in the other, and his work, in turn, became a hybrid fusion of cities, cultures and atmospheres. In his words, 'I would just roll the lot up and move. And I knew that when I got to the other end, I could roll them out again and continue to work.'
His shows at Hauser & Wirth are as much tales of two cities as tales of two rivers. Bowling's command of light, colour, and geometry was greatly influenced by the two great bodies of water in his life: The Thames in London and the East River in New York, near to which he maintained his studios.

Within his vast canvases, the water's swirling reflections feel tangible. Kaleidoscopic acrylic gel is palette-knifed into ripples and bulging protrusions. Through impasto, collage, stitched canvases, found objects and metallic and pearlescent pigments – each vantage point tells a new story.
Throughout his career, Bowling has had one finger on the pulse of western modernity and another on that of his native Guyana. At 87, he remains a prolific creator, carefully directing the physical construction of his work as assistants pour, drip and splash paint across his vast canvases.

A tireless experimenter, sharp intellectual, and shape-shifting creative, Bowling may have been cast in the moulds of English landscape painting and American Abstract Expressionism, but spend even 30 minutes with his work, and you'll unearth untold histories and a poetic approach to abstraction that continues to feel mind-blowingly new.
INFORMATION
'Frank Bowling – London / New York', until 30 July 2021, Hauser & Wirth New York; until 31 July 2021 Hauser & Wirth London. hauserwirth.com
Harriet Lloyd-Smith is the Arts Editor of Wallpaper*, responsible for the art pages across digital and print, including profiles, exhibition reviews, and contemporary art collaborations. She started at Wallpaper* in 2017 and has written for leading contemporary art publications, auction houses and arts charities, and lectured on review writing and art journalism. When she's not writing about art, she's making her own.