That seventies show: Francesco Vezzoli delves into the archives of Italian TV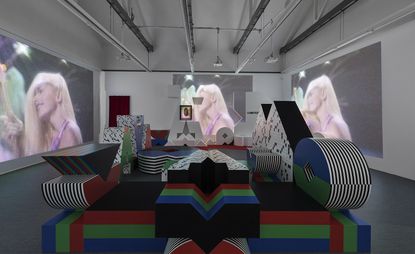 (Image credit: Delfino Sisto Legnani and Marco Cappelletti)
Francesco Vezzoli — the Italian artist known for his fascination with pop culture — is bringing back the 70s. Opening at the Fondazione Prada this week, Vezzoli's exhibition delves deep into the archives of Italian broadcasting company Rai, dealing with television's relationship with art, politics and entertainment.

In a fantastically psychedelic set (designed by M/M Paris, with whom Vezzoli has collaborated throughout the show) that recreates the vibe of a TV studio, Vezzoli's consistent focus is women's role on the small screen, and the way television served both the emancipation and exploitation of Italian women. The 1970s brought the TV diva: the ultimate Italian sex idol. Vezzoli explores this irresistible but problematic allure through the female hosts of TV shows such as Stryx and C'era Due Volte, alongside works by women artists of the same era, that disrupt this image, including Lisetta Carmi's groundbreaking series, I Trasvestiti, which comprises intimate shots of transvestites taken in Genova, still radical even in the sexual context of Italy today.

The danger and pleasure in voyeurism is cleverly explored by other Italian women artists elsewhere. Giosetta Fioroni's peep show, La Spia Ottica, is reconfigured from its 1968 iteration. Visitors can peer into a bedroom set where a female performer goes about her routine inside (the performance will be continuous throughout the exhibition's run).

This flows neatly into a more direct confrontation of gender issues in the 1970s. A sumptuous reconstruction of a 70s nightclub — plush red velvet curtains, carpet, and furnishings — is the setting for large-scale projections of feminist footage from Rai's newsreels. The TV announcements of referendums that resulted in the legalisation of divorce and abortion, in 70 and 78 respectively, are particularly poignant in the history of the Catholic country. Sicofoil works by feminist artist Carla Accardi are also presented as part of the set-up, uniting art and action.
It's a fight that perhaps many young Italians have forgotten now. The urgency continues upstairs in the most dense, difficult part of the exhibition, with video materials of news from Italy's Anni di Piombo (Years of Lead) a time of heightened political tension. Does mass media communicate information or incite fear? The question seems to hang in the darkness of this more sombre section of the exhibition.

From fun and factual to cerebral and political, each space in this ambitious show has its own distinct atmosphere, and walking around it is like a flicking through channels. 'I wanted to set a path that was risky and dense — one as difficult as the subject requires — but also entertaining and surreal,' Vezzoli says.

It certainly is dense. It might take the average visitor a few trips to view all the materials here, but Vezzoli has handled the archives attentively, with a healthy dose of nostalgia and fondness for the lost traditions of TV. His personal paean comes in a new video work, screened in the foundation's cinema, an edit of footage that influenced him through his childhood, (spent watching TV with his grandmother, to the dismay of his intellectual parents).

As well as reflecting on the way television documented and contributed to social change, shifts in Italian identity, art, design and culture, Vezzoli wants to inspire with possibilities of television as both a medium and media now. 'Viewed with a contemporary eye, Italian television in the 1970s clearly demonstrates its anarchic, revolutionary character.' It is this spirit that Vezzoli hopes to revive. Until that happens, the Fondazione Prada are running all-nighter marathons of the TV programmes that defined of the 1970s, from avant-garde series to variety shows and documentaries.
INFORMATION
'TV70: Francesco Vezzoli guarda la Rai' is on view until 24 September. For more information, visit the Fondazione Prada website
ADDRESS
Fondazione Prada
Largo Isarco 2
20139 Milan
Receive our daily digest of inspiration, escapism and design stories from around the world direct to your inbox
Charlotte Jansen is a journalist and the author of two books on photography, Girl on Girl (2017) and Photography Now (2021). She is commissioning editor at Elephant magazine and has written on contemporary art and culture for The Guardian, the Financial Times, ELLE, the British Journal of Photography, Frieze and Artsy. Jansen is also presenter of Dior Talks podcast series, The Female Gaze.