To infinity and beyond: Eyal Gever to launch the first sculpture in space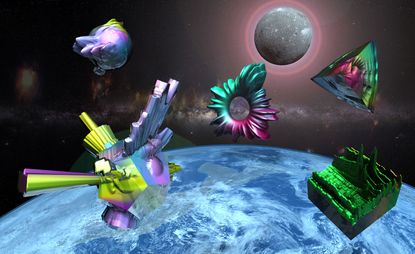 (Image credit: press)
Back in 1969, a group of artists including Andy Warhol and Robert Rauschenberg took their works on the Apollo 12 mission with the Moon Museum. More recently, the urge to take art into celestial realms was continued by Damien Hirst, who sent one of his dot paintings into space on the ill-fated Beagle 2 mission to Mars in 2003 (and which was finally located on the planet's surface in 2015). For 2016, it is the turn of contemporary artist Eyal Gever. His #Laugh project, developed in collaboration with Made In Space and NASA, is set to produce the first 3D printed sculpture in space.

'I've simply used the latest technology to develop a new language for my art,' states Gever. Originally a technology entrepreneur, he now tests the boundaries of 3D printed art via his abstract and conceptual sculptures.
This initiative was a commission from Made In Space, an enterprise that aims to colonise the cosmos, promoting it as a place to live, breathe and create culture. The foundation has been using 3D printers for years as a way to create tools on space stations, but this time they are looking to produce something even more innovative – perhaps even something unconceivable for Earth.

Gever's idea stemmed from the notion of merging the sound of humanity with space; therein, he invited the public to record laughter via an app, which he then reconstituted as sound sculptures. The winning sculpture is set to be realised as 'frozen laughter in space' using a zero-gravity 3D-printer aboard the International Space Station.

The most popular #Laugh will be announced in January 2017, and printed on the International Space Station in February (assuming, he intimates, there's no asteroid storms or space explosions in the meantime, of course). Watch this 'space'.
INFORMATION
For more information, visit Eyal Gever's website