Toiletpaper's surreal world goes on view in Mumbai
Toiletpaper artists Maurizio Cattelan and Pierpaolo Ferrari present 'Run As Slow As You Can' at the NMACC (until 22 October 2023), a sensory overload infused with Indian flavour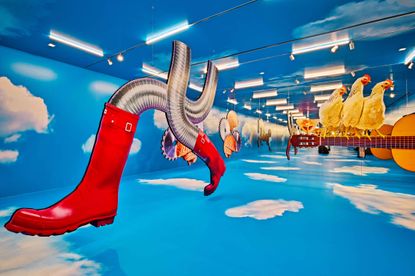 (Image credit: Courtesy NMACC )
Wallpaper* Newsletter
Receive our daily digest of inspiration, escapism and design stories from around the world direct to your inbox
Thank you for signing up to Wallpaper. You will receive a verification email shortly.
There was a problem. Please refresh the page and try again.
In today's overloaded society, how slowly do you believe you can run? Toiletpaper challenges one of Asia's most frantic megalopolises to an answer. The Nita Mukesh Ambani Cultural Centre in Mumbai is hosting the Italian duo's largest exhibition in India to date, titled 'Run As Slow As You Can' (until 22 October 2023).
The show, curated by Mafalda Millies and Roya Sachs, features the work of the renowned Italian creative studio and image-based magazine founded by Maurizio Cattelan and Pierpaolo Ferrari: 'The exhibition is an invite to appreciate the surprisingly balanced dichotomy between speed and slowness, ordinary and unconventional, traditions and innovation,' says Cattelan. 'India and Mumbai in particular, for their intricacies of contrasting forces, seemed a perfect match to host Toiletpaper's world of paradoxes.'
Toiletpaper in Mumbai: 'Run As Slow As You Can'
Divided into four chapters, the exhibition questions our presence in an increasingly virtual world where we are constantly bombarded with bold visual inputs: 'The concept is Toiletpaper in its entirety,' Ferrari underlines. 'All four chapters together made the story possible, and I've appreciated every single line of them. However, I noticed myself genuinely drawn to the manipulating narrative of the labyrinth, where I could feel my senses surrender to the surrounding visual provocations.'
'Take a Left, Right?', the first chapter, pulls audiences into a visually intense labyrinth. The second, 'Is There Room in the Sky?', is a dream world of a digital meta sky. The third, 'A House Is a Building That People Live In', introduces the concept of a perfect surreal home. Finally, the 'Control Room' is a red room peppered with objects, photographs, and works from the studio's headquarters in Milan, decorated with neon lighting stating 'Collect moments not things', or 'I'm a drug you should try'.
The inspiration? Nothing tingles the imagination more than life itself, according to Cattelan: 'We play with surreal visuals and bizarre scenarios that, at first glance, may seem far away from reality whereas instead they are endorsed by it,' he adds. 'To the careful eyes, products we own, objects we use, people we surround us with and their interaction in the ordinary way of things, provide the most stimulating display of unexpected absurdity.'
Walking through the rooms is like embarking on a treasure hunt for references, meanings, and fascinations. 'Citing Dante, one of the most intricate spokesman of the Italian narrative, visitors can expect to enter the exhibition like a dark forest, leaving behind the predictable, the known, the ordinary,' says Ferrari. Kittens shaped like hamburgers, a mannequin laying under a carpet, flowers with holes, hens sitting on a guitar, and cakes drenched in detergent complement the allusions, images, and objects that have a special place in Toiletpaper's history – a pool filled with bananas, enormous eyeballs, hands holding red lipsticks, and, of course, the spaghetti – they're all over the place, spilling on a stylish gentleman's suit, on the staircase leading from one floor to the next, and covering an old Indian Ambassador car.
The Nita Mukesh Ambani Cultural Centre (NMACC) in Mumbai is the first Indian institution to present a retrospective of Toiletpaper. 'I want people to see that art can be fun, joyous, unimposing, and engaging,' says Isha Ambani, who oversees NMACC's visual arts programming. 'Our initial discussions with the artists and curators were so much fun and laden with energy and new ideas, that I was convinced this show will be something that the Indian audience and especially the youth, will truly enjoy.'
The architecture and layout of the Art House was the curatorial starting point, curators Millies and Sachs explain. 'Having four floors and 16,000sq ft of gallery space to work with, it was important to us to try to create a Gesamtkunstwerk where each floor felt like a continuation from the previous one, rather than multiple detached layers of images.'
The show is designed to be completely immersive, both physically and emotionally. The aesthetics of Toiletpaper, playful and saturated with colour, coincide perfectly with the Indian one, as shown by the integrated references, from elephants to the entrances of rooms shaped like traditional havelis: 'Definitely Toiletpaper's iconographic approach beautifully marries [with] India's rich and vibrant taste,' Ferrari agrees. 'The crocodile overlooking the Taj Mahal immersed in a dreamlike flora on the third floor is proof of that. The inclination towards filling spaces with colours and motives is common ground with Mumbai. In this combination of surreal aspects even blank spaces, if there were any, could paradoxically deliver an intense and animated touch.'
Receive our daily digest of inspiration, escapism and design stories from around the world direct to your inbox