Summer lovin': ToiletPaper's psychedelic displays at Galeries Lafayette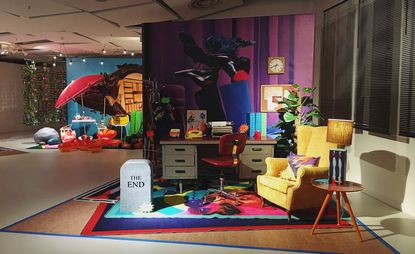 (Image credit: Antonio Camera)
The Galeries Lafayette flagship in Paris can feel like sensory overload under normal circumstances, let alone special ones. Hence extending an invitation to Maurizio Cattelan and Pierpaolo Ferrari of ToiletPaper – arguably among the few creative forces that could stand up to the stimulation.

Their takeover includes 11 pop-provocative, summer-themed vitrines facing Boulevard Haussmann, stagings throughout the store and 'TP-Rama', a surreal mise-en-scène within the department store's Galerie des Galeries cultural space. Their most imposing installation of all, however, is the enormous Eiffel Tower under the wondrous and historic coupole. Brushing up against opposite sides of the lustrous, inflatable replica are two giant golden… eggs. Those familiar with the duo's God sculpture for Gufram, in which two eggs nest next to a giant green cactus, will note the resemblance. Here, however, with the city's most defining feature as the centre point, they are contributing to the persistent question: is Eiffel masculine or feminine? Generally, people lean female – a grand iron dame with her legs wide; but Cattelan feels otherwise, describing the temporary sculpture as an homage to a 'tombeur', French for stud or player. 'At a time when no one knows what gender is, it's a man,' he adds, blithely confirming to Wallpaper*, 'It's a dick'.

With that settled, a tour of the exhibition reveals vibrant vignettes featuring ToiletPaper's product collaborations with Seletti and Gufram, all stacked and layered as if some super-fan had opted to live with little else. Their close-up saucy spaghetti motif provides an apropos backsplash in a kitchen complete with Seletti's dismembered tableware; the office area, best described as Mad Men on acid, includes a Gufram mock headstone that reads 'The End'. Interspersed among all the high-impact accessories are a few standout pieces from midcentury Italian furniture designer Osvaldo Borsani that the duo customised with their offbeat imagery. The round table in the living room boasts a pattern of rainbow serpents, for example. Like the glossy screens that debuted at FIAC, these additions show how ToiletPaper is evolving into more than a cult magazine.

Cattelan noted that they considered the space in the manner of an Ikea showroom, but that he couldn't envision people living in a tricked out ToiletPaper home. 'One room, maybe,' he suggests. Indeed, if that's the goal, all the non-furniture objects can be purchased at an adjacent concession.
Click above to watch the unveiling of one of the vitrines. Photography: Thibault Voisin
INFORMATION
'TP-Rama' is on view until 10 September. For more information, visit the Galeries Lafayette website (opens in new tab)
Photography: Antonio Camera
ADDRESS
Galeries Lafayette
40 Boulevard Haussmann
75009 Paris
VIEW GOOGLE MAPS (opens in new tab)