Is NMACC Mumbai's new crown jewel of culture?
The newly inaugurated Nita Mukesh Ambani Cultural Centre (NMACC) in Mumbai is a spectacular first-of-its-kind art space for India. We explore the centre, and its art-, fashion-, and design-filled offerings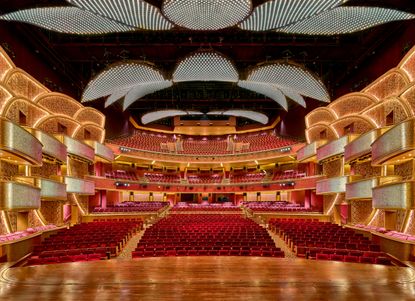 (Image credit: NMACC)
From Priyanka Chopra Jonas to Zendaya, Gigi Hadid to Indian legend Shah Rukh Khan, the guest list was star-studded for the inauguration of the Nita Mukesh Ambani Cultural Centre. The first-of-its-kind art space for India opened last week in Mumbai with Met Gala-style red carpet opening events and after-parties attended by the who's who of the Indian film industry and Hollywood.
With its three state-of-the-art theatres (a 2,000-seat Grand Theatre, a more intimate 250-guest Studio Theatre, and a platform for new talents called The Cube) and art exhibition spaces, the NMACC is considered the crown jewel of the Jio World Centre, which was unveiled one year ago at Mumbai's new bustling commercial business hub, the Bandra Kurla Complex: 'I feel art is one of the strongest forms of expression of any society. After the Covid lockdown, art united us, giving us such an insight on humans, especially the spiritual side of humans,' says Nita Ambani, founder of Reliance Foundation, the philanthropic arm of India's largest private sector company, Reliance Industries.
Ambani's daughter, Isha Ambani Piramal, helped design the building's profile, which features three distinct large golden leaves resting on its façade: 'The third leaf in the façade (the "cuff" as we now call it), was actually sketched out by Isha as an idea during one of our meetings with the architects,' she recalls. 'The concept of three leaves holds great significance in Indian culture. The number three holds great spiritual importance as it symbolises the holy trinity of Hindu Gods – Brahma the Creator, Vishnu the Protector, and Shiva the Destroyer. Three is also a manifestation of the sacred syllable Om, the primordial sound of the universe. Truly it is in big and small details like this that our cultural centre celebrates the cultural essence of India.'
Inside, the massive structure displays marble floors and an array of traditional motifs. The concourses are filled with public art, ranging from Yayoi Kusama's Clouds, a 90-piece stainless steel structure that mirrors the sky, to Kamal Kunj, the largest ever commissioned Pichwai paintings, a 400-year-old art form native to Nathdwara, Rajasthan.
'Sangam/Confluence' at NMACC
It's not just public artworks on display. The exhibition 'Sangam/Confluence' (until 4 June 2023), by American curator Jeffrey Deitch and Indian cultural theorist and poet Ranjit Hoskote Ranjit Hoskote, inaugurated the Art House, a four-storey, 16,000 sq ft exhibition space designed by Richard Gluckman. It highlights connections between artists from India and international names, including Anselm Kiefer, Francesco Clemente, and Cecily Brown, who are exhibiting in India for the very first time alongside Bharti Kher, Bhupen Khakhar, Ranjani Shettar, Ratheesh T, and Shantibai, as well as Lynda Benglis, and Raqib Shaw. 'As a nation-state, we are very recent, but when we look back at its civilisation, the history of India has always been transcultural,' Hoskote underlines.
'India in Fashion'
The grandiose structure also hosts 'India in Fashion: The Impact of Indian Dress and Textiles on the Fashionable Imagination' (until 4 June 2023), an exhibition following the country's influence on global style and India's embroidery and textiles heritage since the 18th century. Curated by Hamish Bowles and designed by award-winning exhibition designer Patrick Kinmonth in collaboration with architect Rooshad Shroff, the show includes works by Christian Dior, Gabrielle Chanel, and Yves Saint Laurent, as well as Indian designers such as Sabyasachi Mukherjee, Tarun Tahiliani, Anamika Khanna, and others: 'Through the exhibition, what we have done is to look at different moments in time to make contextual reference to the clothes,' Shroff says. Accompanying this exhibition is Bowles' coffee table book published by Rizzoli, documenting the comprehensive history of India's impact on fashion worldwide.
'Civilisation to Nation: The Great Indian Musical'
The main theatre was inaugurated by 'Civilisation to Nation: The Great Indian Musical' by filmmaker and theatre director Feroz Abbas Khan, condensing the millennia of Indian history, from the first sound in the universe, the Om, to India's independence, into just 90 minutes of dance and music performance.
Modelled on Hollywood's iconic Dolby Theatre, the Grand Theatre was designed by Steve Clem and Nick Wolfcale of TVS Design in collaboration with Brian Hall of Theatre Projects Consultants. During the show, the silhouette of shining lotus flowers undulates on the auditorium's private boxes. A large sculptural chandelier designed in collaboration with Swarovski, all crystals and LED lights, presides over the ceiling, casting its lights onto tableaux vivants, hundreds of dancers and performers, and over 1,000 costumes, designed by Manish Malhotra, in a seamless blend of ancient traditions and Bollywood style.
'Art opens the mind to new things, new ideas, it helps you embrace diversity,' says Ambani, who also sits on the board of The Metropolitan Museum of Art in New York. 'We have been planning the NMACC for the last nine years and it has finally come to fruition. The intent is to showcase India's vibrant heritage to the world and, at the same time, bring the best of international art to India.'