'Tangle Teaser' sees artists unknot the power of hair at Sarabande Foundation, London
Last chance to see: 'Tangle Teaser' at the Sarabande Foundation, as eight artists get to the root of hair and its power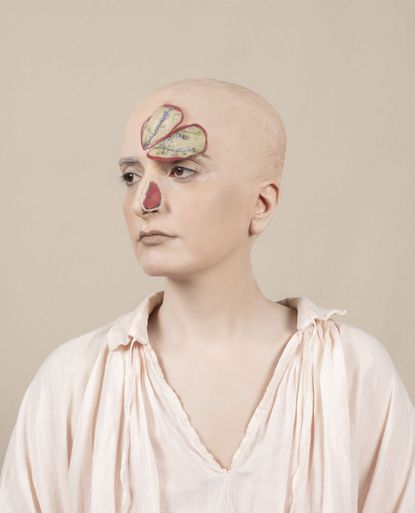 (Image credit: Shirin Fathi. Courtesy Sarabande Foundation)
Wallpaper* Newsletter
Receive our daily digest of inspiration, escapism and design stories from around the world direct to your inbox
Thank you for signing up to Wallpaper. You will receive a verification email shortly.
There was a problem. Please refresh the page and try again.
Human hair is exceptionally charged. Its styling can reflect religious beliefs, beauty standards, gender dynamics, and political suppression. It is variously seen as seductive and repellant; a desired adornment or unseemly revulsion. Lee McQueen's Sarabande Foundation shows eight artists in 'Tangle Teaser', a London art exhibition dedicated to the power of hair (until 12 June).
Numerous pieces utilise disembodied hair. While it is often fetishised when connected to the head, hair in a plughole or stuck to the bathroom floor is another matter. Camilla Hanney's Domestic Pleasure subverts this, featuring a broom with luscious curls spilling from the handle, forming plaited waves on the floor. Isabel Castro Jung works with her and her partner's combined hair, taking a matted entanglement and turning it into a celebration of love. Rosie Gibbons' comical self-portraits feature hair pulled from her brush, parodying the glamour of fashion photographs.
Anouska Samms weaves hair and combines it with ceramics. Her works speak to familial bonds between women, as mitochondrial DNA found within the hair shaft is passed down generations. Samms works exclusively with red locks, investigating the five-generation trend within her family of women dying their hair.
'My work looks at the things we make literal and physical as a way to stay attached to family, heritage and unknown identities of self,' she says. 'Most importantly, the ways we wordlessly communicate our love for others.' Her vessels are functionless, disrupting traditional approaches to sculpting and weaving. 'The distorted lack of functionality in my work suggests the way family rituals are passed down, reshaped and marked by each person that continues to engage with them,' she says.
Shannon Bono's pop-up salon and paintings celebrate Black hair, bringing together 1920s Congolese hairstyles with contemporary trends. She presents the salon as a place of connection and community, painting styling tools as items of beauty and adorning the works with small seashells used in braids.
Laila Tara H and Paloma Tendaro convey female defiance through hair. The former explores women's historical ownership of nothing but jewellery in some countries. Hanging loops of hair 'like a noose' from small rings, she contrasts delicate jewels with the violent consequences of female dissent. Tendaro creates vein-like strands of red wool to explore the tale of Medusa, connecting her blood-transformative properties with the danger symbolised by her untamed hair.
Throughout the show, 'Tangle Teaser' pushes against the manifold ways in which hair is used to dominate and subjugate. Together, the works celebrate self-ownership, conveying the pure power of hair in acts of love and protest.
'Tangle Teaser', Sarabande Foundation, until 12 June sarabandefoundation.org
Receive our daily digest of inspiration, escapism and design stories from around the world direct to your inbox