Paul Smith on art directing Pablo Picasso
Art directed by Paul Smith, 'Picasso Celebration: The Collection in a New Light!' at Paris' Musée Picasso is a contemporary reframing of Picasso's collection 50 years after his death. Deyan Sudjic speaks to Smith about his vision for the show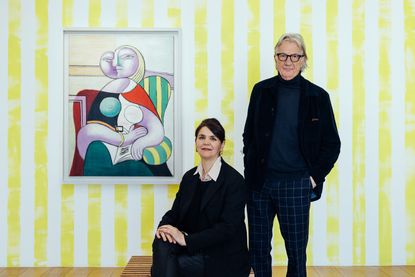 (Image credit: Copyright : Musee national Picasso­Paris, Voyez-Vous (Vinciane Lebrun) and Succession Picasso 2023 )
Paul Smith spent some of his best days during the grimmest periods of the Covid lockdown in his famously untidy office in an otherwise empty building, working his way through 200,000 images from Pablo Picasso's personal collection in the archives of Musée Picasso in Paris. He had been asked to art direct the museum's exhibition marking the 50th anniversary of the artist's death, in 1973. 'The brief was a carte blanche to show Picasso in a new light,' says Smith. 'It was meant to be a way to open the museum to a new generation and a new public. Not being an expert, on Picasso, I could say, "I really like that", without being burdened by all its history.' Cécile Debray, who took over as the museum's director only after Smith had started work, is using the exhibition to put the collection, mostly in storage since 2015, back on permanent show.
With an unerring eye for picking out the unexpected, as well as the beautiful, Smith found decorated plates, copies of Vogue that Picasso had scrawled over, Robert Doisneau's photographs of the master from the 1950s, posters and preparatory sketches, as well as a selection of unquestionable masterpieces. There were, he says, a few surprises about the size and scale of some of his selections when he saw them in the flesh. Working with the museum's curators to underpin the selection with a broadly chronological structure, and scholarly authority, Smith's witty and inventive ideas about display create a memorable exhibition, one which he has clearly enjoyed putting together enormously.
A wall of bicycle handlebars gazes back at Picasso's bull's head fabricated from a bicycle saddle and a rusty steel tube. There is a cascade of striped Breton jerseys hanging from the ceiling of the museum's attic above a photograph of the artist wearing one.
Picasso's tribute to Manet's Le Déjeuner sur l'herbe has a green lawn on the floor. Thelonius Monk's improvisational jazz haunts the 1950s room. There are carpets on the floor in some rooms and rough paint stripes on the walls of another. The 17th-century baroque splendour of the museum's home, the Hôtel Salé, with its honey-coloured stone, has never looked better.
Debray is enthusiastic about the colours that Smith has used. 'It gives the museum the feeling of being a private house again. We will try and keep that flavour for the future. A white cube can seem so intimidating.'
Does the most famous artist of the 20th century really need an introduction to a new generation? Debray, on the basis of her reading of Twitter, thinks that he certainly does. She doesn't use the word misogyny but she does mention Me Too. 'When I look at social media, I feel a sort of rejection for him from a generation'. It's the reason she has introduced the work of living artists into the exhibition, most of them women, to contextualise and respond to Picasso's work. There are some telling juxtapositions, Dora Maar's surrealistic photograph introduces the war room. Mickalene Thomas, who quotes Guernica in her Black Lives Matter work is on the opposite wall. Louise Bourgeois shares another room with Picasso's biomorphic work. Obi Okigbo's painting addresses fetish objects from Picasso's collection.
What did Smith learn about Picasso from the experience? 'I would never compare myself, but he was always curious, always wanting to learn'.
'Picasso Celebration: The Collection in a New Light!', on view at the Musée Picasso in Paris until 27 August 2023. museepicassoparis.fr (opens in new tab); paulsmith.com (opens in new tab)