'Inside Other Spaces': explore women's immersive art in Munich
'Inside Other Spaces. Environments by Women Artists 1956 – 1976' brings together 11 pioneers of immersive art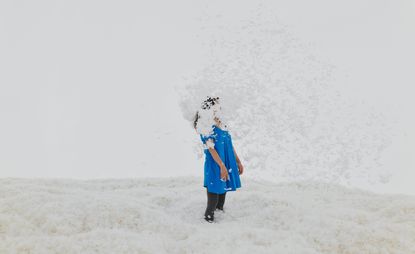 (Image credit: Foto: Agostino Osio)
Wallpaper* Newsletter
Receive our daily digest of inspiration, escapism and design stories from around the world direct to your inbox
Thank you for signing up to Wallpaper. You will receive a verification email shortly.
There was a problem. Please refresh the page and try again.
Arriving at Haus der Kunst in Munich, you are welcomed by a monumental exterior designed in the Classical style. In spite of a contentious past that began with navigating the complexities of early 20th-century German history, the iconic museum has long since begun an inclusive and optimistic new chapter. This is embodied by an inspiring and immersive new exhibition 'Inside Other Spaces. Environments by Women Artists 1956 – 1976'.
The museum previously held the extensive National Collection of Modern and Contemporary Art, which has since moved to Pinakothek der Moderne, a modernist building designed by the German architect Stephan Braunfels. Haus der Kunst now focuses on temporary exhibitions with artists like Anish Kapoor and Louise Bourgeois. From a curatorial perspective, its proportions offer a unique opportunity to focus on exhibiting large-scale works.
Director Andrea Lissoni left his role as a senior curator at Tate Modern to embrace the challenge of redefining Haus der Kunst. The newly opened immersive exhibition 'Inside Other Spaces' is part of an ongoing series focused on shining a spotlight on major women artists such as Fujiko Nakaya and Phyllida Barlow. Lissoni curated this pioneering and thought-provoking exhibition with the support of the curators Marina Pugliese and Anne Pfautsch.
In the mid-20th century, the Argentine-Italian visionary Lucio Fontana was the first artist to describe his large-scale, ephemeral works as ambienti spaziali or 'spacial environments'. They dance a careful line between art, design and architecture. Lissoni describes how, 'an environment is an immersive artwork isolated from the surrounding space'. A particularly vivid example is the hypnotic blue of Aleksandra Kasuba: Spectral Passage, 1975.
The exhibition brings together 11 women artists known for inaugurating immersive art: Judy Chicago, Lygia Clark, Laura Grisi, Aleksandra Kasuba, Lea Lublin, Marta Minujín, Tania Mouraud, Maria Nordman, Nanda Vigo, Faith Wilding, and Tsuruko Yamazaki. To put the show together, a skilled team of conservationists and art historians have sourced photographs and archives to recreate these environments.
Before entering 'Inside Other Spaces', you are politely asked to remove shoes and store possessions to ensure that you can move freely as you interact with the works of art. You then read a short text that helps you to let go of any anxiety before immersing yourself. Lissoni describes, 'As well as a traditional introduction text, I wrote a short text that I intend as a tuning fork, an instrument that prepares the visitor for the mood we wanted to set.'
You are entering a new experience.
First of all, feel comfortable.
You will encounter twelve artworks.
They are all unique and they all require different behaviours
Each can suggest a different position: you can enter, you can stay, you can walk, you can sit, you can dance, you can discover, you can experience freely
You can touch everything, yet.
Treat them with care, they are delicate.
They may challenge you,
Take all your time.
Listen to yourself.
Look Everywhere.
Move through, around, observe.
Share your experience.
Become a cat.
The feminist visual artist and writer Judy Chicago created an environment that experiments with light and space. Feather Room, 1966–2023 is soft and welcoming and encourages every generation visiting Haus der Kunst to play and enjoy themselves. The experience is not dissimilar to the audience surrendering to the sensation of the natural element of wind in an enclosed space in Wind Speed 40 Knots, 1968 by the Italian artist Laura Grisi.
'Inside Other Spaces' is not only an uplifting sensory experience that reasserts the important role of women in developing immersive art, but is reflective of the ability of Haus der Kunst to challenge itself and evolve continually as a museum. Said Lissoni, 'My approach is based on strong continuity throughout the years across projects and exhibitions: we look at the present, anticipating the future, and having the past in mind.'
'Inside Other Spaces. Environments by Women Artists 1956 – 1976' takes place at Haus der Kunst in Munich 8 September 2023 - 10 March 2024
Receive our daily digest of inspiration, escapism and design stories from around the world direct to your inbox