Eric van Hove brings Morocco to Mayfair in a sculpture exhibition at Connolly
At Connolly in London's Mayfair, Eric van Hove's 'Fenduq' sees British poise collide with the raw grace of Moroccan creativity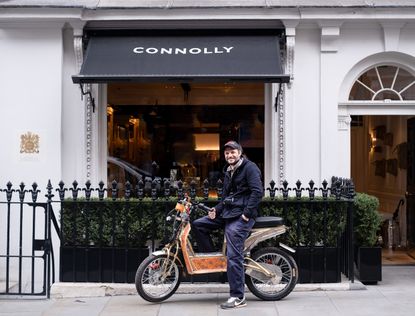 (Image credit: Courtesy the artist and Connolly)
Arriving at Connolly in Mayfair, there is an immediate awareness of its subtle elegance. Whether you intend to source a work of art or an expertly tailored jacket, every aspect of the Georgian townhouse and its contents has been thoughtfully designed to elevate and inspire.
Established in 1878, the thriving British heritage brand has provided the leather for Aston Martin, Jaguar as well as the iconic Eames chair. Isabel Ettedgui, Connolly's owner, fell in love with the historic Clifford Street building when she was relaunching the brand that her late husband Joseph Ettedgui had acquired in 2000. She swiftly commissioned the Paris-based architects and designers Gilles & Boissier to oversee its masterful renovation.
In recent years, Connolly has shown a series of thought-provoking exhibitions including those by Rich Stapleton and Alba Hodsoll but 'Fenduq' by Belgian artist Eric van Hove underlines their devotion to the automotive. Curated with art historian Clara Zevi, van Hove presents a series of exquisite replicas of car engines. One of which, a handmade replica of the engine Charles Lindbergh used for the first transatlantic flight, has just been acquired by MoMA, as Ettedgui reveals.
After van Hove and Zevi met by chance in Morocco, he decided that 'she was onto something, that she was pursuing an intuition'. She runs Artists Support, an organisation that is helping artists to support charities they care about. A percentage of sales will benefit MAMMA, a charity selected by van Hove that preserves Morocco's modernist and post-independence architectural heritage. He believes that 'philanthropy should be a core aspect of any meaningful endeavour'.
As described by Ettedgui, '"Fenduq", by Eric van Hove celebrates the crafts and community of Morocco and traces it across the centuries, but interpreted with a modern relevance that reaches out to art and function.' The sculpture exhibition opened on the birthday of her late husband Joseph, founder of the eponymous retail empire, who was born and grew up in Casablanca where he rode a moped.
Van Hove, who was raised in Cameroon, and is based in Marrakech, worked with local craftsmen on 'Mahjouba IV', an electric moped built by, and for, the Moroccan market. Ettedgui described it as, 'a beautiful hand-crafted machine'. She continued: 'His philosophy and practice challenge how the legacy of craft can be upheld in the face of mass production and consumption.' It's an approach that aligns with Connolly's perspective.
Eric van Hove: 'Fenduq' will be on view in the upstairs gallery at Connolly until 19 April 2023. connollyengland.com (opens in new tab)