Elmgreen & Dragset's lifesize sculptures at Perrotin Paris play on Insta-activism
Elmgreen & Dragset's "David and other sculptures" is on view at Perrotin Paris through November 18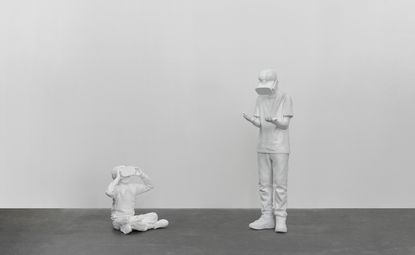 (Image credit: © Elmgreen & Dragset / ADAGP, Paris 2023. Courtesy of the artists and Perrotin. Photo: Elmar Vestner)
With a sprawling museum show on view at the Centre Pompidou Metz (and another about to open at Kunhalle Praha), Elmgreen & Dragset's exhibition "David and other sculptures" at Perrotin Paris offers an intimate way to experience their work. Through a simple yet immersive presentation of seven sculptures and sculpted groups, the artists invite the audience into four distinct potential scenarios, leaving plenty of space for reflection, projection, and intervention revolving around daily life—technology, childhood traumas, and all.
'In Metz, we have a lot of installations and hyperrealist sculptures. It's whole environments that you walk through,' Ingar Dragset tells Wallpaper*. 'Here in Paris, we wanted to do something different. The focus is more on sculptures, it's a quieter exhibition with little moments that you see when you walk around.'
The Scandinavian duo, who are based in Berlin and have worked with Perrotin for 20 years, are known for creating scenarios through life-size installations in various mediums that encourage viewers to shift their perspectives and question our contemporary conditions. 'We get bombarded through the internet with global disasters all the time. When one stops, the next one takes over and we don't know how to relate to it,' Michael Elmgreen says. 'What we actually relate to are the normal, small dramas playing out in our everyday personal lives.' By portraying familiar scenes, 'you can play with the curiosity of exploring the world and questioning the world,' he continues.
In Paris, visitors first encounter David (2023), a white-lacquered bronze sculpture of a barefoot youth sitting on a replica of the gallery's concrete floor. One leg is outstretched, the other bent, his ears are covered by headphones. It seems like a normal scene, but the "floor" is hung on the wall like a canvas, the figure defying gravity and inverting our perception of space. The title, too, plays with expectations: David might be one of Michelangelo's Renaissance masterworks, but this David is part of the workshop team at the artists' studio. 'It gives a hint about a new generation of sculptors working with everyday situations instead of the heroic, picture-perfect bodies, or ideals,' Elmgreen explains. 'There are Davids other than the one in Florence.' 'You have these 'newer' kinds of masculinities depicted which are more fragile or not so heroic as classical sculptures,' Dragset continues. 'These are not warlords or big thinkers. They are normal guys in everyday situations.'
In an adjacent room, the scene of what might be an accident is rendered in more white-lacquered bronze: one person, wearing a full-face helmet, stands next to a toppled-over moped on the ground (Delivery, 2023); the other, wearing nothing but boxers, stands on a balcony, rests his elbows on the balustrade, and holds a DSLR camera up to his left eye (The Examiner, 2023). Rather than engaging, perhaps seeing if the driver needs help, he snaps photos of the scene. As the exhibition text says, there's no way of telling if this is 'pure voyeurism or Insta-activism'—an unsettling feeling that anyone who has lived in a large city can relate to. In another room, three boyish figures, part of the series This Is How We Play Together (2023), wear VR goggles and stand or sit surrounded by warped, curved mirrors in place of the gallery's walls—creating a disorienting, dizzying effect that makes it feel like you too are wearing a VR headset.
But as with many of Elmgreen & Dragset's works, the twist is so often in the details: here, this comes in the form of Still Life (2023), a small-scale sculpture—so small that some visitors walk right past it—in an otherwise empty room. Silently, between two windows, two sculpted child-sized hands emerge from a wall, holding a sparrow. At first glance, the bird seems to be taxidermy. But, holding one's gaze a few seconds longer reveals a slight murmur; the bird's chest quivers, irregularly rising and falling. The feathers are indeed real, but it breathes animatronic breaths. Despite knowing it's a robot, a feeling of empathy and sorrow is inevitable, as the viewer imagines a child holding the dying bird, helpless—perhaps encountering death for the first time. 'We love to show [and evoke] vulnerability, hesitation, and emotions that are often kept out of sculpture,' Dragset continues.
Unlike the man taking photos of the moped, here, the viewer wants to intervene, to reach out and help the dying creature, just like the imaginary child attached to the hands. Yet this is achieved through a reversal of roles: technology, such as in the form of a camera, is not mediating our experience, and neither is it offering a portal into another realm by way of virtual reality. Rather, technology has become nature—not just sustaining but actually creating a type of life itself.
Elmgreen & Dragset's "David and other sculptures" is on view at Perrotin Paris through November 18. "Bonne Chance," their exhibition at the Centre Pompidou Metz, is open through April 1, 2024. "Elmgreen & Dragset: READ" will open at Prague's Kunsthalla Praha on November 16, 2023, and run through April 22, 2024
Receive our daily digest of inspiration, escapism and design stories from around the world direct to your inbox