Duncan Grant's very private erotic drawings are now very public, and reinterpreted by contemporary artists
To celebrate LGBT+ History Month 2023, we explore 'Very Private?' at Charleston gallery in Sussex (until 12 March 2023), a fearless pairing of Duncan Grant's midcentury erotica and contemporary expressions of sexual liberation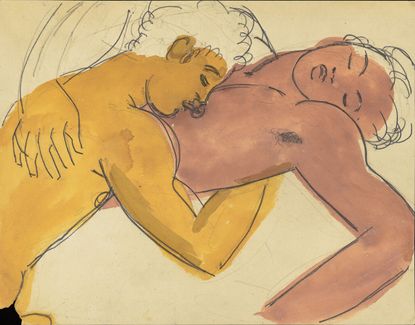 (Image credit: © The Estate of Duncan Grant, licensed by DACS 2022)
In 1959, artist Duncan Grant gave his friend and fellow artist Edward Le Bas an envelope. Scrawled on the front were the words 'these drawings are very private', and an instruction for Le Bas 'to do whatever he likes with them'.
Inside was Grant's collection of drawings, liberated visions of queer love; joy, and ultra-expressive, red-hot sexual entanglements. The drawings were made in the 1940s and 1950s, a time when such creative expression meant playing with fire. The majority of Grant's sexual relationships occurred when homosexuality in the UK was a criminal offence, regardless of consent. Grant found solace in the Bloomsbury Group, whose liberal community of writers, artists and historians included Virginia Woolf, Clive Bell, Roger Fry and Vanessa Bell. The group's countryside headquarters occupied the adjacent house and studio in Charleston (where Grant shared a studio with painter Vanessa Bell), which remains open for public tours and has become something of a pilgrimage for the myth and magic of the Bloomsbury Group.
Although Grant's motto was 'never be ashamed', his pictures, by contradiction, remained in private hands, passed from friend to friend, lover to lover, in secret, for 60 years. This was until 2020, when the current owner, Norman Coates, offered his collection to Charleston for an exhibition like no other.
As Nathaniel Hepburn, CEO and director of Charleston, recalled at the show's opening in October 2022, Coates handed the pictures over saying, 'I'm not going back in the closet, and neither are the drawings.'
These drawings became the seed for a show, 'Very Private?' on view at Charleston until 12 March 2023. It is not simply a story of posthumous sexual freedom; here, covert midcentury erotica meets a new age of sexual enquiry, told through the lens of contemporary artists, offering, as Hepburn stated 'new ways of looking at and thinking about these important drawings and their place in history'.
'Very Private?' marks the first stage of a research project (a collaborative PhD between Charleston and the University of Sussex) into Grant's drawings, and their hidden queer histories, focusing on the conservation and digitisation of this previously unknown, yet pivotal chapter of Grant's work. The question mark in the exhibition title carries weight: why did they have to be private at the moment of creation, and how does privacy play a role in sexuality now?
Seven contemporary artists respond to Duncan Grant's erotic drawings
Alongside a selection of 40 Duncan Grant drawings, seven contemporary artists, diverse in media and background, have each responded to Grant's work with a fresh take on identity, gender, and sexuality. Among them are British Fashion photographer Tim Walker's acrobatic, polychromatic depictions of queer love, staged in a theatrical set design by Shona Heath and displayed in box-like formations in the centre of the gallery. Artist and activist Ajamu X's photographs are more sensual takes on queer desire and pleasure, told through sensual images of Black bodies, taking cues from and reflecting the different facets of Grant's work. Elsewhere, Somaya Critchlow's delicate watercolours and drawings are inspired by Grant's drawings but put the female nude body front and centre.
The most extensive response is from British artist Linder, who is taking over an entire gallery with 'Linder: A Dream Between Sleeping and Waking'. The installation, including objects paired with existing and new works, takes its title from how Duncan Grant described the works of Surrealist artist René Magritte, and it is also how Linder views the landscape, history and cultural significance of Charleston.
Linder – who has just opened a London show in dialogue with the work of Hannah Wilke at Alison Jacques Gallery (until 11 March 2023) – has long been known for destabilising normative ideas of sexuality, creating unflinchingly feminist collages, orgy-esque odes to sexuality that peel back society's deeply-rooted perceptions of it. The installation is an enchanting musing on medieval dream visions, pairing her familiar approach to collage with unseen works, such as a collaborative piece with producer and musician Rabit, featuring the contemporary queer music collective House of Kenzo.
It's these contemporary interventions that underline how Grant's drawings, despite being made more than 70 years ago, still 'resonate with a freshness and joyful beauty that connects them to audiences and the queer experience across the generations', according to Darren Clarke, head of collections and research at the Charleston Trust. Grant's drawings are tales of once-private acts of revelry, joy and love, made gloriously, unashamedly public.
'Very Private?' and 'Linder: A Dream Between Sleeping and Waking' are on view at Charleston, Sussex, until 12 March 2023. charleston.org.uk (opens in new tab)
From 25 March–10 September 2023, Charleston will host the first joint presentation of the work of American ceramic artist Betty Woodman and painter and photographer George Woodman.
Harriet Lloyd-Smith is the Arts Editor of Wallpaper*, responsible for the art pages across digital and print, including profiles, exhibition reviews, and contemporary art collaborations. She started at Wallpaper* in 2017 and has written for leading contemporary art publications, auction houses and arts charities, and lectured on review writing and art journalism. When she's not writing about art, she's making her own.