Play thing: Erwin Wurm's One Minute Sculptures incite humour in LA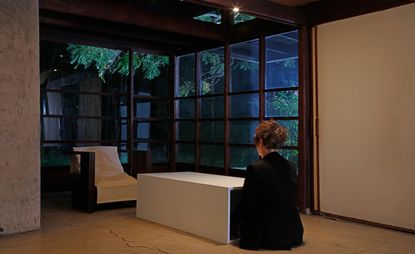 (Image credit: Joshua White)
What's it like to looked at as a work of art? For the first time, Los Angelenos can find out.

Erwin Wurm's widely exhibited One Minute Sculptures, developed in 1980s by the Austrian artist, proffer museum-goers instructions (either in the form of a written description or suggestive drawing) to enact with props he has placed in the space, in order to become a piece of art for 60 seconds. The documented results are invariably surreal, comedic, a test of the boldness – and often, of the balance – of the viewer.

At MAK Center for Art and Architecture's Schindler House until March 27, Wurm's work instigates a new set of sculptures with Californian crowds: The objects they might activate include sneakers, buckets, fluffy toys and sticks of wood.

It is all poised for hilarity and for a new kind of experience in the museum space, where the usual dynamic between viewer and artwork is passive, delineated by a 'Don't Touch' sign. Wurm has always stressed, however, that humorous work doesn't mean that the intent that underpins it is not serious: The quick sculptures are as much a reflection on the way we interact with the art world as how we do so in our surroundings in general. They can convey how willing people in different environments are to engage with what's around them, and to be laughed at – or to participate in the laughter. While most might balk at the words 'interactive art', Wurm's pieces literally reimagine the banal.
INFORMATION
Erwin Wurm's 'One Minute Sculptures' is on view until 27 March. For more details, visit the website (opens in new tab)
Photography: Joshua White
ADDRESS
MAK Center for Art and Architecture
35 N Kings Rd
West Hollywood
Los Angeles, California
VIEW GOOGLE MAPS (opens in new tab)
Charlotte Jansen is a journalist and the author of two books on photography, Girl on Girl (2017) and Photography Now (2021). She is commissioning editor at Elephant magazine and has written on contemporary art and culture for The Guardian, the Financial Times, ELLE, the British Journal of Photography, Frieze and Artsy. Jansen is also presenter of Dior Talks podcast series, The Female Gaze.