Luis Barragán's Mexico City home sets the scene for an intimate art exhibition
Curator Elena Filipovic has temporarily replaced the revered architect's personal art collection with contemporary proxies that allude to the originals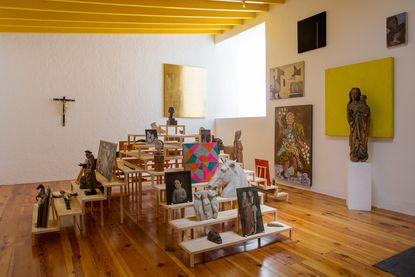 (Image credit: Ramiro Chaves)
Located surreptitiously near the end of a narrow street in Mexico City's Miguel Hidalgo district, Casa Luis Barragán is the private residence and studio built by the famed Mexican architect in 1948 and inhabited until his death, 40 years later.

Now considered a modern masterpiece, the building had remained largely intact, harbouring Barragán's vast collection of books, art, and curios. More recently, an exhibition curated by Elena Filipovic proposed a slight, nearly imperceptible shift in the residence's contents, asking: What might the interior of Barragán's home look like if he had lived on and entirely rehung it with art of the present?
'Emissaries for Things Abandoned by Gods' is an exercise in bridging the past and the modern, seeking to establish a dialogue not only with the building itself, but with the paradoxical, often mythologised personality of its author. Describing the home as 'a place where monkish asceticism meets a dandy's capriciousness and where strict Catholicism meets material-sensual abandon', Filipovic replaced more than 50 artworks with contemporary proxies, selected for their formal or conceptual correspondence to the originals.

Pieces by a group of 16 international artists, including Deana Lawson, Heinz Peter Knes, Gabriel Kuri and Lynette Yiadom-Boakye, now stand in place of Barragán's carefully selected collection, often referencing the timeless themes he showed an interest in — mortality, spirituality, intimacy — and other times proposing new ones that speak to a collective existence, such as the refugee crisis and the lives of diasporic communities.

It is a peculiar experience, to encounter artworks usually exhibited within a sterile gallery setting, surrounded instead by the textures, colors, and quotidian objects of a private home. Too often within the spheres of art and architecture, archival work is paralysed and encapsulated within the framework of history. Spaces such as Casa Luis Barragán, however, offer myriad possibilities for exploring and understanding our present.

Preserving them as they once were is a commendable effort, but keeping them perpetually immutable, while relegating contemporary work to contemporary spaces, would rob us of the opportunity to create and present new narratives. This exhibition is only one example of the ways in which art can function as a tool for traversing time.

Purists needn't worry, though. 'Emissaries for Things Abandoned by Gods' runs until 15 December, after which all of Barragán's prized possessions — currently on view in the studio portion of the home — will be returned to their rightful places.
INFORMATION
'Emissaries for Things Abandoned by Gods', until 15 December, Casa Luis Barragán. estanciafemsa.mx (opens in new tab); casaluisbarragan.org (opens in new tab)
ADDRESS
Casa Luis Barragán
Gral Francisco Ramírez 12-14
Ampliación Daniel Garza
Miguel Hidalgo
11840 Mexico City
VIEW GOOGLE MAPS (opens in new tab)