Emerging photographers: a lens on the global rising stars
Explore Wallpaper's directory of emerging photographers and exciting new talent in international photography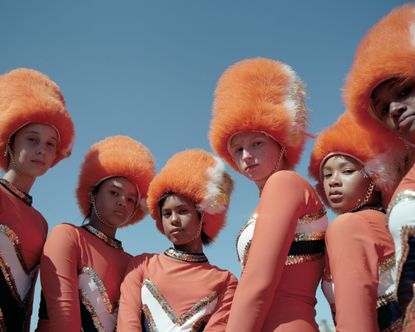 (Image credit: Alice Mann)
At Wallpaper*, we bring together the best talent across our pillars, from the most recognisable names in the industry to new graduates. In this column, our photography desk highlights emerging photographers who are being noticed by, and contributing to, the photographic community. These artists not only demonstrate bold dedication to their medium, but also an eagerness to experiment, push boundaries and make waves in the industry.

Our ever-evolving list of emerging photographers reflects who will be defining and redefining the photography landscape in the years to come.
Emerging photographers: the ones to watch
Lucy Sparks
Lucy Sparks describes her practice as occurring in two realms: outside, in the everyday world, and inside her studio. It's this contrast that allows her to work at the most interesting intersections of 'intention and chance, control and coincidence.' Often incorporating familiar household objects and visceral materials, the emerging photographer plays an alluring visual game with her viewers. Her time spent between Essex and California has merged into her aesthetic approach as she plays between the real and imagined. Now, after photographing objects for so many years, Sparks is enjoying shifting her practice to people.
Xiaopeng Yuan
Shanghai-based Xiaopeng Yuan tells us 'I enjoy it when my existence, or even the interference of a camera, is forgotten by the subjects I'm photographing. This kind of situation is rare and often of short duration. Every time I experience this, my heart beats faster. In this sense, hiding behind a camera is like hiding inside a stage curtain. The photos that are taken during this time always become my favourites.' This statement alone perhaps says all we need to know about the Chinese emerging photographer, while his images duck and dive away from obvious interpretations. In 2013, Yuan co-founded publishing studio Same Paper, which notably produced Still Life, an impressive collection of works created amidst 2020's global standstill.
Olgaç Bozalp
With cultural identity at the heart of his multidisciplinary explorations, Turkish-born Olgaç Bozalp has travelled extensively throughout Asia, the Middle East and parts of Africa. With his improvisational staged-documentary approach, Bozalp creates visual challenges to hegemonic Western notions of beauty and personal individuality, informed by his past education in theatre. Soon he will release Leaving one for Another, a book project that navigates themes of migration and its complex causes. Following his inclusion in FOAM Talent's 2022 edition, the series will also be exhibited alongside fellow winners at FOAM Amsterdam from 15 September.
Oskar Proctor
Working internationally across interiors, architecture and still life, Oskar Proctor has an eye for form. Close collaborations include The National Trust and Hermès, alongside an established studio practice which is recognisable for a beautiful stillness and depth of light. A regular Wallpaper* contributor, Proctor considers pace and avoiding preconceptions to be key to the momentum of his process. And of course, 'any opportunity to bring in a drop of strangeness is always welcome' as he explained in his Through the Lens interview with us. Up next is the book Ateliers of Europe, An Atlas of Decorative Arts Workshops in collaboration with John Whelan and The Guild of Saint Luke, published by Prestel and released in spring 2023.
Lowri Cooper
Lowri Cooper's early inspirations began with the landscape of South Wales and her grandmother's artwork. With colours and tones that melt into one another, experimentation has played a key role in the emerging photographer's creative growth as she blurs physical and digital image-making. Now with an MA in Fashion Image from Central Saint Martins under her belt, Cooper has evolved her practice in response to her day-to-day visual experiences as she builds a distinctive repertoire. Recently, she created a unique series on Chanel Beauty for our June issue and amongst personal collaborations, is now working with arts and healthcare charities on exhibitions.
Deo Suveera and Pamela Dimitrov
Seeking to 'capture and monumentalise small or otherwise lost moments that often bring concrete reality and abstract form together', artist duo Deo Suveera and Pamela Dimitrov focus on the minimal, but on an impressive scale. The Thai artists observe details around them with such a close eye that nothing is left unconsidered - the resulting compositions are as elegant and deliberate as their process.
instagram.com/deo_suveera; instagram.com/pamelad
Dorothy Sing Zhang
Dorothy Sing Zhang explains she's always been interested in the synthesised and constructed, however, the emerging photographer's images are hard to encapsulate; they appear suspended in enigmatic narratives that pause at unnerving moments. It makes sense that the evolution of Sing Zhang's practice has involved filmmaking – which she studied in Denmark, taught by Jørgen Leth, Lars Von Trier and Thomas Vinterberg – while her fine art background was simultaneously formed at the Slade in London, where she is currently based. We're keeping our eye out for her debut photobook, and the short musical and music video she's directed, which are all out soon.
David Nana Opoku Ansah
Community, freedom and Ghana's ongoing sociopolitical temporalities are all explored in the work of David Nana Opoku Ansah. Though the photographer is based in Accra, his images have travelled worldwide, from the Tanzania Arts Festival to the big screens of Piccadilly Circus in London and Paris's Le Carreau du Temple. Ansah's ongoing series Area Boys & Brotherhood is particularly notable, offering a tender look at what vulnerability means for coming-of-age Ghanaian boys. Behind Ansah's impressively self-taught practice is an open mindset that 'All things are worth photographing.'
Bastien Gomez
With his meticulous contemporary eye, Bastien Gomez creates evocative compositions that often allude to the aesthetic values of our times. A graduate of the renowned Swiss art school ECAL, he is now based in Paris and working across editorial and commercial projects alongside collaborations with artists. He notes that the function of inanimate objects in films – specifically their narrative potential – has been an influence on his increasingly still-life focused practice.
Ibrahim Azab
A curiosity about how we perceive and process information is at the centre of artist and curator Ibrahim Azab's practice. With unusual methods, London-based Azab moves between collage, sculpture and performance with the same vivid energy his pieces radiate, exploring the boundaries of the photograph as an object. Recently the photographer has been exhibiting new moveable works that invite the viewer to curate an assemblage of their own, expanding and opening up his methods of digital and physical intervention. While this is a collaborative act, much of Azab's process remains mysterious; it's this mix that keeps us on our toes.
Pauline Caranton
Emerging Paris-based photographer Pauline Caranton's images sit at moments in-between. She describes this approach as building on 'the architecture of everyday emotions, in what they deploy in intensity, mobility, extravagance, and finally in images, in voids and spaces'. With an intense still-life perspective, all of Caranton's photographs are recognisably hers. At the moment, she is continuing a personal project photographing her niece's physical and emotional metamorphosis as she grows up. Watch this space.
Alice Mann
For South-African photographer Alice Mann, empowering collaboration is essential in the production of her moving portraiture essays. Mann's multiple award-winning series Drummies, created with young teams of female drum majorettes, has recently been published by Gost Books and her first solo show is currently open at Kunsthal Rotterdam until 23 January 2022, cementing her as an emerging photographer to watch. Mann is currently working on an engaged and optimistic series on South Africa's 'Matric Balls', a prom-like celebration for graduating students.
Hugo Yu
Inventive compositions of primary colours are the common thread throughout Hugo Yu's work. With a BFA from the School of Visual Arts in New York, Yu's quickly created a recognisable visual language. While there is a structure to his practice that Yu connects to his upbringing in Shanghai, Yu leaves a playful openness for viewers' interpretations, inspired by his current home of New York. For our January 2022 issue, Yu took on a photographic marathon of creating portraits of ten architecture studios with exciting results. Sculpture has been a recent addition to the emerging photographer's practice, as a natural expansion of his clever still life sets.
Joanna Wzorek
London-based Joanna Wzorek's work celebrates her Polish heritage, distilling art, politics, history and culture into her expressive and abstract compositions. She recently self-published a zine titled Summer, Farewell as an homage to her homeland. Through freeing nudes and luminous colour, Wzorek created what could be viewed as a postcard from her childhood memories of Polish summers. While she is an alumnus of London College of Fashion, Wzorek's aesthetic crosses between fashion and documentary, with images that bounce off the page to greet you, rich with spontaneous bursts of colour. Interviewed for Wallpaper* recently, Wzorek described her practice in three words: 'Empathy, intimacy and humanity.'
Chieska Fortune Smith
Born in Baltimore, Chieska Fortune Smith now lives in London. After studying international studies and Japanese art history at the University of Maryland, Fortune Smith then lived in Japan for eight years, where she experimented with street photography and began to record close personal relationships between family and friends. Mostly self-taught, Chieska explains that her work is 'rooted in classical timelessness and stories. When looking at one of my photos, I don't necessarily want you to be able to place when it was taken.' Chieska Fortune Smith recently discussed her shoot for our March 2021 issue, reimagining a future of beauty in our post-Covid-19 world.
Mahmoud Mfinanga
Mahmoud Mfinanga is a multidisciplinary artist born in Detroit, now based between Brooklyn and Los Angeles. Notably, he founded Emmazed, a platform for community-driven projects designed to empower artists and encourage transparency, which has been growing steadily for the past eight years. Mfinanga is as adept an interviewer as he is a photographer and art director, creating refreshing imagery with clarity and openness. In Brooklyn, he is focusing on collaborations with local community-led art and photography projects while building an impressive body of photographic work revolving around cars.
Liam Sielski Waters
Through photorealistic 3D renderings, London College of Communication graduate Liam Sielski Waters blurs the boundaries of human identity in the age of technology and globalisation. With an experimental and ambitious take on photography's possibilities, Sielski Waters creates artworks that 'oscillate in limbo between the real world and the digital'. The artist and designer is currently working on a project exploring notions of gender and binary structures through abstract still lifes and sculptures, taking symbols and elements of things we associate with gender and redefining them.
Romain Duquesne
While he was growing up in rural Western Australia, photography was essential escapism for Belgian-born Romain Duquesne. The artist, now London-based, moves between commercial and personal projects, creating contemporary narratives that tease out themes of power, tension, irony and the absurd. Duquesne is a regular Wallpaper* collaborator, often working closely with our fashion director Jason Hughes, most recently for our October 2021, 25th Anniversary Issue. In 2020, Duquesne self-published Hi, Hello!, which saw the performance of modern masculinity gently unravel with thoughtful metaphor and humour. Duquesne's practice offers fresh social commentary with an unmistakable aesthetic.
Receive our daily digest of inspiration, escapism and design stories from around the world direct to your inbox
Holly Hay is the Photography Director at Wallpaper* Magazine having previously held titles as AnOther and GARAGE magazines. Holly is a regular lecturer at Central Saint Martins and London College of Fashion as well as working on photography direction for a number of luxury brands.