Elmgreen & Dragset's retrospective at the National Gallery of Denmark explores loneliness and solitude in contemporary culture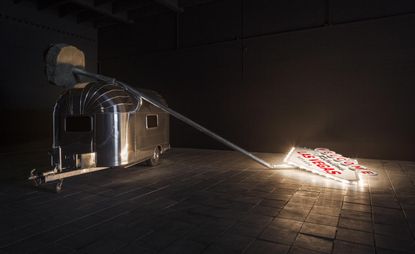 (Image credit: Anders Sune Berg)
Wallpaper* Newsletter
Receive our daily digest of inspiration, escapism and design stories from around the world direct to your inbox
Thank you for signing up to Wallpaper. You will receive a verification email shortly.
There was a problem. Please refresh the page and try again.
The question that most visitors will ask of 'Biography', the retrospective of Scandinavian artists Elmgreen & Dragset at the National Gallery of Denmark, is: 'Whose biography?' To which, the one-time Wallpaper* guest editors Michael Elmgreen and Ingar Dragset respond: 'It's yours.'

That is to say, the characters that Elmgreen and Dragset have planted within their dystopian interiors - an innocent-but-damned baby, a forlorn teen in a hoodie, a body drowned in a concrete swimming pool - are alter egos for all of us. 'Every figure has a little of us in him,' says Elmgreen, 'our worries, our phobias, our desires. We invent them in order not to become them.' Yet the burning question really should be, 'What kind of a life is it anyway?'

From the moment you mount the classical white staircase of the museum, near the botanical gardens in central Copenhagen, you're faced with a 'sad, grey, concrete' façade, the duo's mock-up of a social housing block, with peek-a-boo windows into cramped, charmless rooms. You see one resident watching X-Factor on a loop, another collapsed on the sofa while his computer displays messages from a gay chatroom. There are rooms furnished entirely with IKEA products, and a dog-eared manual for quitting smoking.

This is a community of people with no community, excluded from society, living vicariously through celebrities and social networks. And who can blame them, ask the artists. 'We're showing how people survive, how they escape reality by watching talent shows or singing karaoke,' they say. 'This is what makes life bearable in such a place.'

If there is a common thread running through the exhibition, dating back some 20 years to their rawest expressions of futility, it's exclusion. The most common motif is the roadblock: the sealed door, the crumbling staircase, the empty waiting rooms with nobody to call your number. They are no different in theory from the human figures, who look away blankly, excluding the viewer while being excluded themselves.

In part it's a reaction against contemporary art, much of it buffed to a shine and saturated with colour. 'Loneliness and solitude are not often depicted nowadays,' says Elmgreen. 'There's too much culture today that tries to please its audience. But the exclusion of this sadness from artwork functions like denial.'

Of course, ugliness can be beautiful too. Elmgreen and Dragset credit as their inspiration European interiors depicted by Dutch Masters and the Danish Golden Age. They're determined to elevate interiors from the poor relations of architecture. 'We almost think of our scenery as a new version of interior painting,' says Elmgreen, 'like artists painting interiors throughout centuries that implied psychology and social codes.'

'Welcome', one of two new works in the show, is likewise a gorgeous illustration of hopelessness; physical darkness envelopes tropes of hardship like an Airstream trailer, fire escape and porcelain Rottweiler behind a chain-link fence. Slumped over the trailer is the felled 'Welcome to Las Vegas' beacon, setting up the binary reality of Sin City.

So far, so depressing. Yet the artists would sooner think of the viewing experience as cathartic, like the writing of Philipp Meyer or the films of Michael Haneke. 'Even if something's sad, it can put you in a good mood,' says Elmgreen. 'There's comfort in watching other people's misery.'

To coincide with the opening of the exhibition, the pair has also released a photographic diary of their lives leading up to the exhibition. Also called Biography, it is published by Hatje Cantz and available internationally at select bookstores.
ADDRESS
National Gallery of Denmark
Sølvgade 48-50
DK-1307 København K
Denmark
Receive our daily digest of inspiration, escapism and design stories from around the world direct to your inbox