Meta-art: Elmgreen & Dragset's 'The Well Fair' at Beijing's Ullens Center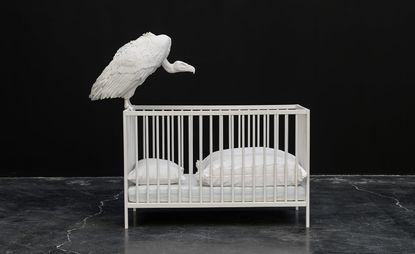 (Image credit: Gallerie Perrotin)
The Scandinavian art duo Elmgreen & Dragset have always been fascinated with the sophisticated sausage-making machinery of the art world; the complex systems that assign cultural credit and commercial value, the chain of white cubes that add heat and sizzle. Nothing exemplifies the absurdity of that system better then the contemporary art fair; the banal ranked cubes of art, seemingly random objects in dead space; the baroque, burnished collectors; and the feudal hierarchy of access.

For their first exhibition in mainland China, the pair have created their own take on the art fair at Beijing's Ullens Center for Contemporary Art. 'The Well Fair' smartly smuggles in and spins an 80-piece selective career retrospective with art fair-style booths and common areas displaying 20 year's worth of E&D output. Of course, that's not all there is to it.

Some pieces remain in crates or half-installed, leaning nonchalantly against walls. In one booth, two house painters repeatedly paint white already white walls, a recreation of the piece Zwischen anderen Ereignissen, first performed in 2000. In another two booths, the art pieces and furniture are exactly replicated. Even the gallerists, 'played' by identical twins, are mirror images and make identical moves, yawns and laptop tappings. Last year's Secondary also doubles up, re-creating an auction room but mirrored from the middle and accompanied by the cacophony of auctioneers in action.

Adding to the general meta-ness are collected works such as The Named Series, 2012, carefully sliced and framed sections of white wall from the Guggenheim, Centre Pompidou and other grand art institutions; and last year's Self Portraits, re-sized or re-materialised wall labels that name check works that have somehow inspired or affected the artists. A bar is inverted, with chairs trapped and tempting taps facing the wrong way and, perhaps most pleasingly of all, the VIP lounge is inaccessible to all.

As ever, Elmgreen & Dragset like to show their workings out and to open up conversations. The show's catalogue includes pieces by Frieze co-founder Matthew Slotover as well as art critics, cultural psychologists and marketing specialists; an interview with the artists; and a WhatsApp conversation between Art Basel directors Marc Spiegler, Noah Horowitz and Adeline Ooi.
INFORMATION
'The Well Fair' is on view until 17 April. For more information, visit the Ullens Center for Contemporary Art's website (opens in new tab)
ADDRESS
Ullens Center for Contemporary Art
798 Art District
No. 4 Jiuxianqiao Lu
Chaoyang District,
Beijing 100015
VIEW GOOGLE MAPS (opens in new tab)