Elmgreen & Dragset give poolside lounging a new slant in Miami
The Scandinavian duo's Bent Pool is the final sculpture in a series of site-specific works to be permanently installed in and around the Miami Beach Convention Center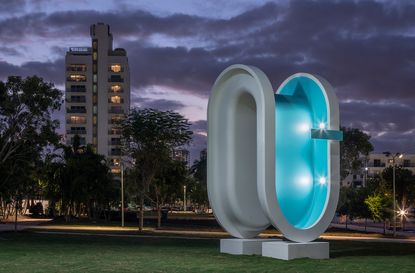 (Image credit: Robin Hill)
The swimming pool isn't a new motif in the work of Scandinavian art duo Elmgreen & Dragset. From a diving board sticking out of a window at the Louisiana Museum of Modern Art in 1997 to a silicone mannequin floating face down at the 2009 Venice Biennale or, more recently, a deserted public pool at London's Whitechapel Gallery, the artists' fascination for all things aquatics has been a driving force across their multi-faceted, witty oeuvre.

This time, the subversive pair take to Miami Beach with an ambitious installation erected outside of the Convention Center, seasonal home to Art Basel Miami Beach. Titled Bent Pool, the 20ft tall curved swimming pool draws on minimalism's geometric forms as much as on pop art and conceptualism's use of readymade objects and imagery. But it also pays homage to the city's architectural tradition, while providing a commentary on luxury in the age of climate change. 'Swimming pools are woven into the very fabric of Miami Beach,' Michael Elmgreen and Ingar Dragset said of their site-specific work, 'what they represent is actually something in danger of becoming frivolous, rather than remaining iconic.'
Indeed, it is no secret that, while extravagant condominiums continue to rise along its shores, Miami Beach is, in fact, drowning. In recent years, the growing threats associated with rising sea levels and stronger tropical storms have cast uncertainty over the coastal city's scenic, pastel-tinted streets and art deco buildings, leading to rampant climate gentrification across the surrounding county. 'You have this illustrious legacy of iconic hotels and swimming pool design, luxury and leisure, which is nowadays juxtaposed with this undeniable fragility that comes from the city's very geography,' said the Berlin-based duo, who are currently enjoying a solo exhibition at the Nasher Sculpture Center in Dallas, Texas.

The sculpture, which mimics the frame of an otherwise oval swimming pool, bent in an inverted U-shape and standing upright on a two-tier plinth, is reminiscent of the monumental architecture of a triumphal arch. Such structure traditionally marks historical battles or the ceremonial entrance to a city – here, suitably greeting the art crowds as they march into Art Basel Miami Beach and neighbouring Design Miami, where they'll put their bet on the next hot thing. But the artists explain that the piece 'creates a more intimate and everyday kind of arch', one which can only be crossed by one person at a time; perhaps a nod to the relentlessly fast-paced and speculative nature of the art market.


RELATED STORY
Officially inaugurated during Art Basel Miami Beach, Bent Pool is the final in a series of six site-specific public art works, permanently installed in and around the Miami Beach Convention Center. Other artworks launched earlier this year include a ceramic-tile installation by British artist Sarah Morris, a mural by German artist Franz Ackermann, outdoors garden sculptures by Dutch artist Joep van Lieshout and hand-painted glass panels by British-American artist Ellen Harvey. They were selected by the City of Miami Beach's Art in Public Places programme in concurrence with the $620m revamp of the 1950s Miami Beach Convention Center, completed last year by American firm Fentress Architects. Having cost $7m (the programme allocates 2 per cent of all capital costs for City projects), the series represents the largest public art project of its kind in American history installed on a single site – that is, while it's still afloat.
INFORMATION
elmgreen-dragset.com; miamibeachfl.gov
ADDRESS
Miami Beach Convention Center
1901 Convention Center Drive
Miami Beach