Jan Fabre takes a seat with the Old Masters in St Petersburg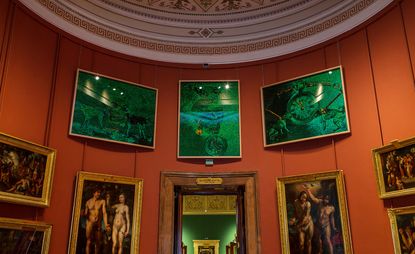 (Image credit: Deweer Collection)
Jan Fabre likes to say that he's 'just a dwarf in the presence of giants'. What he's driving at with this humble statement is that he follows in the footsteps of Rubens, Van Dyck, Jordaens and the other Flemish masters that originate from his hometown of Antwerp.

Often, Fabre presents his own, contemporary work in relation to these baroque painters, as he did at the Louvre in 2008, and in Florence this summer. At the State Hermitage Museum in St Petersburg, Russia, Fabre has developed a new iteration of the concept, 'Knight of Despair/Warrior of Beauty', within the framework of the 'Hermitage 21/20' project, organised by the contemporary art department of the famed historical museum. Anish Kapoor, Antony Gormley, Jake and Dinos Chapman, and the late Zaha Hadid – whose last major exhibition took place here – accepted the invitation before him.

'From when I was six years old, my father would take me to the Rubens House in Antwerp,' reflects Fabre on his deeply ingrained respect for the Flemish masters. 'I used to sit there and copy the drawings.' No wonder then that when Dmitry Ozerkov, head of contemporary art at the State Hermitage, first brought Fabre to take a look at the museum, he gravitated toward those sections he knows the best: the Rubens Room, the Jordaens Room, the Snyders Room, the Van Dyck Room.

Fabre created a staggering 100 new works, which range from detailed miniature drawings to life-size figurative sculptures and monumental installations. 'I see the exhibition as a butterfly,' says Fabre in his characteristic metaphorical manner of speech. 'One wing holds the works in the Old Hermitage's Winter Palace, another wing holds the works in the General Staff building. The body that holds the two together is the performance film Love is the Power Supreme.'
When Fabre relates his ideas to historical iconography, the juxtapositions possess an enigmatic force. In the Van Dyck Room, hung with affectionate aristocratic family portraits, he placed large-scale Carrara marble bas-reliefs of the female members of his entourage. Titled My Queens, it is 'an homage to the women I respect, the women I adore,' says Fabre – and it was a conscious move to place women centre stage in a macho Russia, a comment on patriarchy.

There are a lot of details to be found by attentive visitors that convey the complex messages in Fabre's body of work. The series The appearance and disappearance of Antwerp and The appearance and disappearance of Christ that hang amid Rubens masterpieces, are incredibly layered examples of his famous Bic drawings. Executed on high-gloss photographic paper, the faint figures come into focus only from the right angle.

The installations in the General Staff building explore Fabre's favoured ideas of death, vanitas, vitality and metamorphoses in a white cube setting that reinforces the ability of these eternal themes to stand independently from historical context, too.

Here, a darkened room is hung with garlands and, macabrely, taxidermied cats and dogs wearing carnival hats. In the background, a recording plays eerie sounds of claws scratching glass. It's a glimpse into Fabre's complicated relationship with life and art: he celebrates and even venerates both, but without shying away from the sinister or the theatrical.
INFORMATION
'Knight of Despair/Warrior of Beauty' is on view until 9 April 2017. For more information, visit the State Hermitage Museum website
ADDRESS
State Hermitage Museum
Palace Square, 2
St Petersburg
Receive our daily digest of inspiration, escapism and design stories from around the world direct to your inbox