African queen: we dip a regal toe in the rising tribal art market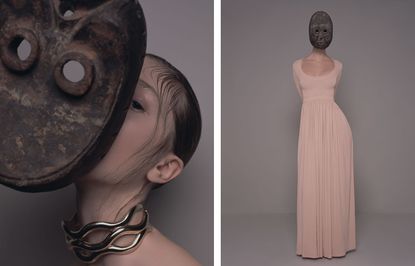 (Image credit: Brigitte Nierdermair)
Hedi Slimane started it. Last year the Saint Laurent creative force du jour added some African accents to a private salon in the brand's flagship on Faubourg Saint-Honoré. And then the worlds of fashion, design and art simply had to follow.

American designers, the Haas Brothers, created creatures fabricated by female weavers from South Africa, that are currently on display at New York's Cooper Hewitt. Next was Valentino, with their theme of Africa and its culture for 2016, announcing that new windows in selected flagships would feature ethnographic African art pieces with contemporary works by Serge Uberti. 3.1 Phillip Lim joined in too, with a spring 2016 campaign photographed in Ethiopia and led by Ethiopian model and philanthropist Liya Kebede.

'It's about taking people back to the elements and exposing them to the real essence of life through Africa's beauty', says Boyd Ferguson, CEO of Cécile and Boyd, the designers of conservation luxury brand Singita. With the latest incarnation of their flagship, Boulders Lodge, they removed anything dated as 'tribal' and gave it a contemporary feel worthy of the entire continent.

But, perhaps, it all started with Pablo Picasso (before Kanye appropriated him) and his love for African art. 'I long represented one of France's greatest photographers Lucien Clergue,' says Spencer Throckmorton, owner of Throckmorton Fine Art in New York. ' Seeing his photographs of Picasso with his collection of African art eventually led me to look closely at African art – I was enchanted. The market for African art, dominated by masks and sculptures of the human figure, is really healthy.'

But galleries like Stevenson, in Johannesburg and Cape Town (with an array of world-class and award winning African artists) and Galerie Bernard Dulon in Paris (which has been promoting primitive art from Africa since 2002) have been laying the foundation. The world, evidently, is playing catch up.
INFORMATION
Fashion: Isabelle Kountoure. As originally featured in the March 2016 issue of Wallpaper* (W*204)
Daniel Scheffler is a storyteller for The New York Times and others. He has a travel podcast with iHeart Media called Everywhere (opens in new tab) and a Substack newsletter, Withoutmaps (opens in new tab), where he shares all his wild ways. He lives in New York with his husband and their pup.