Dining at The Cob Gallery, London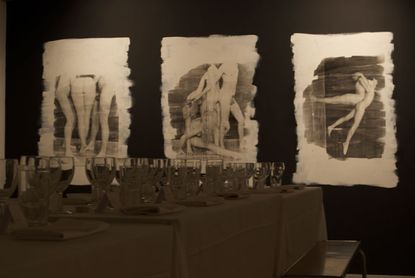 (Image credit: Liam Hess)
Nothing makes you linger over an exhibition quite like eating dinner in its presence. Such was the theory of The Cob Gallery (opens in new tab) when it launched the first instalment of a series of conceptual dinners in London last night, watched over by Walter Hugo's (opens in new tab) dark, shadowy nudes. Nibbling on squid quavers and guinea fowl popcorn, we had ample time to admire the artistry of his forms.
The Cob Gallery is a new gallery-cum-studio opened by young play-write Polly Stenham (opens in new tab) and gallery director, Victoria Williams in February on an unassuming side street in Camden. Designed by Llowarch Llowarch Architects (opens in new tab), it aims to be a springboard for emerging artists like Hugo, who creates his works using a self-coined 'photographic fresco' technique. Applying his deliberately over-exposed images onto wall fragments salvaged from his studio, he creates a series of eerie, textured and smudged forms that look as if they are emerging from the shadows.
The evening's inventive menu came courtesy of chef Daniel Morgan (formerly of the Ritz (opens in new tab), Maze (opens in new tab) and The Square (opens in new tab)). Setting up camp in the gallery, he concocted a light selection of culinary surprises, including watermelon tartare with honeydew yolk, and 'deconstructed' Waldorf salad, with celery milk pannacotta, raisin purée and walnut granola. To leave us feeling fresh, he rounded things off with his own specially devised apple chewing gum.
Stenham plans to host two more dinners this week, followed by one at the start of each new exhibition, as a means to encourage people to interact with the gallery's artworks in a relaxed environment. 'We are always looking to do different things to help people view art in new ways and we hope this is going to be one of them,' she says. Hosting up to 24 people, the next dinners will take place on Friday the 4th and Saturday the 5th of November, and will be open for bookings at £40 a head, with a welcome glass of Prosecco.
ADDRESS
205 Royal College Street, London, NW1 0SG
VIEW GOOGLE MAPS (opens in new tab)