Derrick Adams explores African-American travel in the Jim Crow era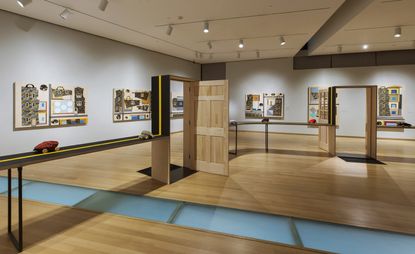 (Image credit: Jenna Bascom)
Driving while black. This familiar American phrase that lightly summarises the risks and consequences of racial profiling looms large over the American identity. But in the segregated Jim Crow era (1870s through 1960s), driving while black posited additional challenges: where would the African-American traveler stop for a cup of coffee in an unknown state? Where could he or she eat? Which towns could be trusted not to run you out after dark?

In 1936, Harlem postal worker Victor Hugo Green published a guidebook outlining safe and black-owned businesses, hotels and restaurants across the United States. The Negro Motorist Green Book – more commonly known as The Green Book – caught Brooklyn-based multidisciplinary artist Derrick Adams' eye and he immediately wanted to pay homage to Green's thoughtful, entrepreneurial spirit through his art.
The result, 'Sanctuary' at the Museum of Arts and Design (MAD), is Adams' first major New York exhibition, with over 50 mixed-media collages and sculptures. 'When Derrick first mentioned The Green Book to me, I had never heard of it. So I asked around and no one I knew had heard of it either,' says guest curator Dexter Wimberly. 'I was like, "Holy cow, we have to do this. This is an important piece of American history that isn't talked about."'

'Sanctuary' isn't concerned with literally educating the viewer on The Green Book, although its pages serve as the exhibit's wallpaper. (The Green Book will be the focus of a companion exhibition opening 1 March, 'Unpacking the Green Book: Travel and Segregation in Jim Crow America'). Instead, Adams focuses on context and motifs in addition to the political and cultural issues, addressing freedom of movement and African American leisure.
'I like to find artists who are interested in materiality and craft, but who work really conceptually,' says Shannon R Stratton, MAD's William and Mildred Lasdon chief curator. 'Derrick is a thoughtful artist who thinks experientially about how his work will be perceived.'

Walking into 'Sanctuary', the viewer is immediately segregated by a wooden infrastructure holding a road topped by driving-cap cars and punctuated by house doors. 'The threshold highlights the experience of being sectioned off,' Adams says. 'I wanted to take the figure out of the exhibition, but still represent the figure in travel. There are elements of moving around – going somewhere or coming in from somewhere.'
Using materials found in his Brooklyn neighbourhood of Bedford-Stuyvesant, Adams visually rendered the advertising-style jargon found in the book, titling his works with playful phrases like 'You can have your own view' and 'There's more than one beauty school'. He says, 'Looking at the book closely, I compiled a sort of data about what kinds of amenities were advertised over and over again and the language they used to lure people into their businesses.'

Familiar leisurewear items such as the aforementioned driving caps, driving gloves, purse handles, and combs mix with kitsch elements like dollhouse windows and commercial grade fabric with printed bricks. 'I also looked a lot at Jacob Lawrence's The Migration Series and how he captured figures moving from the south to the north,' Adams explains. 'I wanted to be in conversation with his work.'

But 'Sanctuary' is as much about moving forward as it is looking back. Wimberly explains, 'It's about freedom of rights. It's impossible to look at this show and not think about immigrants and their rights, and the people who are facing deportation. It's about being treated like a full citizen, not 10 per cent, 50 per cent, 75 per cent citizen. I hope people think about this in context of their own freedoms.'
INFORMATION
'Sanctuary' is on view until 12 August. For more information, visit the Museum of Arts and Design website
ADDRESS
Museum of Arts and Design
2 Columbus Circle
New York
Receive our daily digest of inspiration, escapism and design stories from around the world direct to your inbox