Close quarters: 'DAS INSTITUT' tightens their collaboration at Serpentine Gallery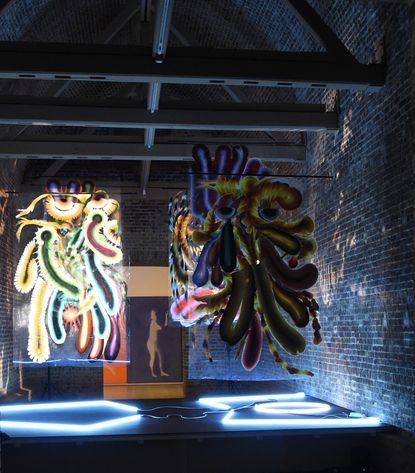 (Image credit: David M Benett . Getty Images)
The artist collective is an idea that's been reinvented many times, and now perhaps the artists Adele Röder and Kerstin Brätsch have done so again. Their brainchild is 'DAS INSTITUT', a collective that, unlike more utopian versions, does not really promote the group above the individual or relish anonymity. Rather, it blurs together works by different artists in the context of an exhibition.

DAS INSTITUT's latest self-titled show, at the Serpentine Sackler Gallery, is based around the layering of Röder and Brätsch's distinctive practices, especially Brätsch's Mylar paintings and stained-glass works, and Röder's neon sculptures. They've also incorporated various other artists, including a sound piece by Sergei Tcherepnin and a film by respected artist and historian Alexander Kluge.

What binds it all together, essentially, is aesthetics. The exhibition is a sensory overload, winding its way around the gallery with garish lights and unnerving shapes appearing in a range of media. In partitioned-off corners you encounter Brätsch's psychedelic marbled paintings, and some unusual slide shows. Especially grotesque is the Am Sonntag series, featuring doctored images of Röder and Brätsch themselves with thin necks and witch-like noses.

The works are big and brash, and materials are fetishised throughout, with plenty of slick surfaces and wooden crates being used as improvised pedestals. Here DAS INSTITUT seem to recall an older sort of collective, one based on a sharing of different crafts. Generally, though, this project could only be called collective in a superficial sense. With its sinister atmosphere, it seems more like a parody of harmonious collaboration.
Information
'DAS INSTITUT' is on view until 15 May. For more information, visit the Serpentine Sackler Gallery's website (opens in new tab)
Address
Serpentine Sackler Gallery
West Carriage Drive
London, W2 2AR
VIEW GOOGLE MAPS (opens in new tab)