Dance Reflections: progressive new festival blends art and movement
The inaugural edition of Dance Reflections by Van Cleef & Arpels Festival marks a bold new fixture on the performing arts calendar. In London from 9 – 23 March 2022, the initiative has been conceived in collaboration with Sadler's Wells, the Royal Opera House and Tate Modern. Here's what to expect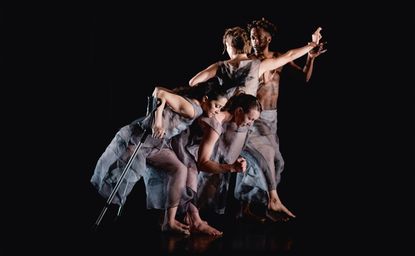 (Image credit: Camilla Greenwell)
When George Balanchine, legendary choreographer and co-founder of New York City Ballet, spoke about his work and legacy, he said: 'I don't have a past. I have a continuous present. The past is part of the present, just as the future is.'
In a similar spirit of melding time, Van Cleef & Arpels will be presenting the inaugural edition of its Dance Reflections festival in London, 9 – 23 March, a programme looking back to seminal postmodern works and to the current moment with new contemporary pieces. Performances will take place in the capital's pre-eminent dance theatres, Sadler's Wells and the Royal Opera House, as well as at Tate Modern and multi-arts space EartH.
Van Cleef & Arpels: a legacy of dance
Van Cleef & Arpels' relationship with the dance community stems from the passion its founding family had for ballet. Claude Arpels met Balanchine in the early 1960s, prior to the choreographer creating one of his best-known works, the 1967 Jewels. Today, the maison has ongoing partnerships with several major ballet institutions, including Australian Ballet and Boston Ballet, as well as contemporary companies like Benjamin Millepied's LA Dance Project.
The London festival is its most high-profile initiative in the field to date and has been curated in-house by Serge Laurent, Van Cleef & Arpels' dance and cultural programme manager, and previously head of live performance programming at the Centre Pompidou. Both Laurent and Nicolas Bos, president and CEO of the jeweller, are resolute that the event should attract a wide audience and have an impact that furthers our understanding of dance as an art form.
'Leaning on our history, we wanted to continue writing the story of our connection to dance, but with a holistic approach,' says Laurent. 'We wanted to create a programme that would be useful for the dance world.'
The 17 performances selected span from important examples of postmodernism by Trisha Brown, Lucinda Childs and Anne Teresa de Keersmaeker to boundary-pushing contemporary creations by artists including Christian Rizzo, Alessandro Sciarroni and Gisèle Vienne. The intent is to show choreographies from the past 50 years that have brought something new to the genre and, in some cases, have not perhaps been widely exposed beyond dance circles. An awareness of legacy and the transference of ideas between different generations of dancers and choreographers were also guiding curatorial themes.
'When you approach a contemporary art piece, in any art form, there is always a link with previous works,' says Laurent. 'That link can be a deliberate break or a continuity, but it is always a reference to the past. The 20th century is such an exciting period in the history of dance, and I wanted to talk about this through the programming.'
Dance Reflections: a stage for interdisciplinary experimentation
In their interdisciplinary and conceptual nature, many of the works in the festival are as much pieces of theatre as they are dance performances. Borne from the highly experimental American postmodern scene, Lucinda Childs' 1979 Dance and Trisha Brown's 1983 Set and Reset were hugely influential in the way they incorporated the contributions of other leading artists in their creative fabric. For Dance, Philip Glass supplied the score and Sol LeWitt made a film of the dancers, which is shown simultaneously on stage alongside the live performers. In Brown's Set and Reset, Robert Rauschenberg designed the set and costumes, Laurie Anderson wrote the music and Beverly Emmons originated the lighting. Viewing both works decades on, it is still thrilling to see how the collaborative elements blend to form a harmonious whole.
Franco-Austrian Gisèle Vienne is a contemporary choreographer-director (and also photographer) who, like Brown and Childs before her, has taken a multi-dimensional approach to her practice. Her dramatic 2010 work This is how you will disappear unfolds in an installation resembling a forest and features a 'fog sculpture' by Japanese artist Fujiko Nakaya. The design is intended to represent both a naturalistic and symbolic landscape that mirrors the performers' inner experiences as expressed through dance. The piece also incorporates lyrics by Dennis Cooper, and atmospheric video and lighting designs.
A fresh interpretation of dance: past, present and future
Like the work of the other contemporary practitioners featured (Katerina Andreou, Boris Charmatz, Ruth Childs, Ola Maciejewska), the two performances bookending the programme are, in discrete ways, both celebrations of the transformative power of dance as an art form. Opening the festival, Neighbours sees LA-based b-boy artist Rauf 'Rubberlegz' Yasit and Albanian contemporary dancer Brigel Gjoka mesh their respective styles and techniques to find a new vocabulary of movement. Closing the programme, with their new piece When we speak I feel myself, Opening, SERAFINE1369 (Jamila Johnson-Small) is a London-based artist-dancer who incorporates film, sound and text in installations that investigate the politics of the body. As much a visual as a movement practice, their work is a synthesis of media and artistic collaborations that invites a fresh interpretation of dance as a performance art.
In Laurent's words, viewers of Dance Reflections will be led on a 'parcours' (journey) through a dynamic period of the art form's recent history. With post-show artists' talks, workshops and film screenings embellishing the live programme, it's a content-rich event that will likely draw a broad and curious audience, and offer a compelling chance to think about dance – past, present and future – in a new light.
INFORMATION
Dance Reflections by Van Cleef & Arpels Festival, 9 – 23 March, London. For programming information, visit dancereflections-vancleefarpels.com (opens in new tab)