Eye popping: Dan Lam's polymorphous, sensory sculptures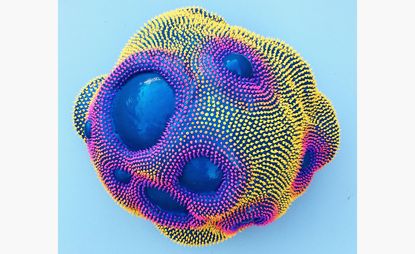 (Image credit: bydanlam.com)
Dan Lam's eye-popping sculptures are difficult to forget. Polymorphous and multitextural, she is inspired by the aesthetics of artists such as Lynda Benglis and Claes Oldenburg, and Tara Donovan's manipulation of materials. With these influences, Lam creates psychotropic objects that trick the senses.

Born in Manila to a Vietnamese family who relocated to Texas when she was child, Lam spent her formative creative years in Dallas – graduating in 2010 from the University of North Texas and later completing a Masters at Arizona State University. At school, she was challenged over her proclivity for making things that were 'too pretty', which pushed her to explore what happened to beauty when there was too much of it.

The artist now works alone at her studio at home in Dallas making her freestanding pieces and wall sculptures. 'I love being able to get to work whenever I need to or if an idea strikes. My studio takes up the back half of the house and everything is covered in plastic sheeting. I usually work at night, from around 8pm–4am.'

Lam describes the process of making her most recently released works – freestanding 'drippy sculptures' that she presented for the first time in March. 'I start with the polyurethane foam on top of some kind of armature. I have a loose idea in my mind of the form I want. The nature of the foam is somewhat unpredictable, so a lot of my process is guiding materials and then releasing control to the material/gravity. If the shape calls for it I will manipulate or add textures. I will also work in a subtractive way with the shape if I think it needs it needs cleaning up here and there. At this point I add acrylic paint and occasionally resin, depending on what kind of finish I want. There are usually quite a few layers. Lately I've been mixing it up with each piece, going between matte and gloss.'

Lam's work fuses her interests in design and art, creating visual metaphors that unite her approach to physical substance with her conceptual ideas on objects in general. 'With the drippy sculptures, I look to the body (flesh, skin, foods) and nature (aposematism) for cues. I'm interested in creating these bright, attractive things that begged to be held, but either can't be touched because of the setting, or you can actually touch them, but they're hard and spiky – making them not so inviting.'

Lam's most recent 'drippy sculpture' works are currently on sale at Left Field, San Luis Obispo, CA, and on Friday 13 May will be part of a group show, 'Prick', at The Platform, Trinity Groves, Dallas, and in August at a solo presentation at Fort Works Art, Fort Worth, Texas.
INFORMATION
For more information, visit Dan Lam's website (opens in new tab)
Charlotte Jansen is a journalist and the author of two books on photography, Girl on Girl (2017) and Photography Now (2021). She is commissioning editor at Elephant magazine and has written on contemporary art and culture for The Guardian, the Financial Times, ELLE, the British Journal of Photography, Frieze and Artsy. Jansen is also presenter of Dior Talks podcast series, The Female Gaze.