Dakis Joannou's art collection goes on show at the Deste Foundation, Athens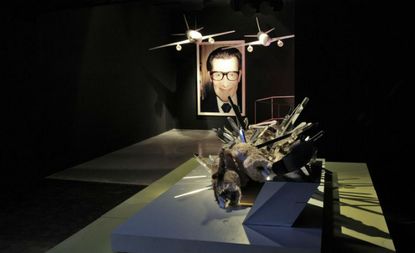 (Image credit: press)
Perhaps the biggest problem with an art collection as staggeringly vast (opens in new tab) as Dakis Joannou's is: how do you show even a fraction of it in a relevant, compelling way? Ever at the vanguard of contemporary art, collecting emerging and established artists with the same gusto, Joannou possesses so many outstanding pieces by key artists, it's a daunting proposition for even the most fearless curator.
Previous overviews of his collection (opens in new tab) have been presented at his Deste Foundation in Athens (opens in new tab) by the likes of Massimiliano Gioni (director of New York's New Museum (opens in new tab)) and Jeffrey Deitch (now director of MOCA in Los Angeles (opens in new tab)). Big footsteps in which to follow, indeed.

An unexpected but brilliantly prescient choice to curate Joannou's 2013 show, 'The System Of Objects', was the theoretical architect (opens in new tab) Andreas Angelidakis. 'I like buildings but I'm not sure I want to be the one building them. I like them like beaches and mountains and clouds, as part of an extended idea of nature,' says Angelidakis of his ambiguous job title. Yet he was able to view Joannou's collection and present it in a rich, fluid exhibition. 'After these conceptually groundbreaking [Deste] shows came a moment when the Dakis Joannou Collection became so big, a show bigger than a concept was called for.'

Showing not only art but also Joannou's furniture collection and even his property portfolio, Angelidakis devised a labyrinthine space where hierarchies are upended and the visitor wanders through an almost physical approximation of a Tumblr page.

The show's title - and, indeed, Angelidakis's entire approach - was inspired by Jean Baudrillard's 1968 leftist manifesto 'The System Of Objects', a roadmap to the ensuing years of consumerism and the psychology of want. As Angelidakis says in his curatorial essay: '"Wanting" is a new form of internet consumption, a theoretical purchase that involves only the currency of "like".'

For a generation reared on the internet, he implies, there is no need to physically own something to assert awareness and define taste; 'liking' is intellectual ownership. Online a Rembrandt masterpiece has the same value as a kitten sitting on a puppy. In fact, which would get more likes?

In this way Angelidakis's exhibition treats everything on show with the same reverence or irreverence - works scattered around or leaned against walls, or viewed through apertures cut into the gallery walls or floors. A pair of stretchy American Apparel leggings are positioned next to a meticulously crafted Tauba Auerbach grid painting; iconic gems are tucked away down dead-end corridors. Even the path through the gallery itself is not always clear: skeletal rooms within rooms lead viewers in all directions, mimicking how easy it is to disappear down a rabbit hole when looking for things online.

The show is a trip, reaching a fevered climax in the final room, where hundreds of images - including canonical works by Ed Ruscha and Jeff Koons - stand next to photos of stilettos and stools, printed out roughly and pinned to the wall. The sheer volume of Joannou's collection becomes apparent, and all the more staggering. It's a brave and democratic way of showing one of the world's great collections of contemporary culture.

Above all this, atop a tower of wooden crates festooned with drawings and photographs, is a bronze George Condo bust of Dakis and his wife, Lietta, surveying everything.
ADDRESS
Deste Foundation
11 Filellinon & Em Pappa
Nea Ionia 142 34
Athens, Greece
11 Filellinon & Em. Pappa
VIEW GOOGLE MAPS (opens in new tab)