Colour injection: Daido Moriyama leaves monochrome behind for new Paris show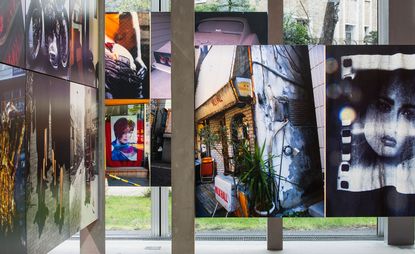 (Image credit: Courtesy Fondation Cartier pour l'art contemporain)
Daido Moriyama's body of work leans so heavily towards black and white photography that to see a gallery filled with his images of Shinjuku in extreme colour is nothing short of startling. The images fill the windowed hall of the Fondation Cartier in Paris, where they have been arranged in small groups like hyper-saturated visual haikus. How a wire fence, a girl's face and an overturned erotic book relate to each other is not the point; what might be is how Moriyama broadcasts a sense of over-stimulation.

In fact, colour work is not uncharted territory for the Japanese photographer; he toyed around with it in the 1970s and by the early 2000s, with the arrival of the digital camera, he would shoot in colour and convert the images to black and white for exhibitions. This was still the case when the Fondation Cartier invited him to present a solo show in 2003. Last year, general director Hervé Chandès felt the artist would benefit from exposing this unfamiliar facet of his work in a wider way. As he tells Wallpaper*, Moriyama didn't require much persuading. 'I simply told him, "We worked together 12 years ago, it's time to come back."'

The show – entitled 'Daido Tokyo' – consists of two rooms. In the gallery to the left, visitors will notice how the images appear like signboards, affixed in mid-height to concrete-like pillars so it's impossible to ignore the lower legs of others drifting through the space. Conceived by Alexis Fabry, the staging also evokes city blocks; visitors turn one corner to find a trio of organically themed images, and then turn another and discover a double dose of kink.

Darkly futuristic à la Blade Runner or bleak and desolate, the collection, says Chandès, 'remind[s] of what we have seen before, while exciting our visual memory'. He adds that Moriyama felt the layout made physical his state of mind. 'He describes himself as a promeneur,' he explains, using the French word for someone who strolls, or walks. 'And a promeneur is someone who goes from surprise to surprise. So, of course, you have this sensation.'

In the opposite hall, a darkened gallery presents a slide show, in which black and white photographs taken over the past two years appear on a 25-minute loop across four screens with random street sounds and voices. Titled Dog and Mesh Tights, the images attest to Moriyama's obsession with capturing moments spontaneously and without inhibition.

Moriyama's distinction between black and white versus colour is simultaneously counterintuitive and expected. As he explains in the press materials, 'The first one is rich in contrast, is harsh and fully reflects my solitary nature. The second one is polite, gentle, as I set myself towards the world.' The catalogue, meanwhile, unites both realms, throwing them into even sharper relief.
INFORMATION
'Daido Tokyo' is on view until 5 June. For more information, visit the Fondation Cartier's website (opens in new tab)
ADDRESS
The Fondation Cartier pour l'Art Contemporain
261 Boulevard Raspail
75014 Paris
VIEW GOOGLE MAPS (opens in new tab)