Compatriots: Rudi Meisel's photographic exploration of GDR-era Germany at C/O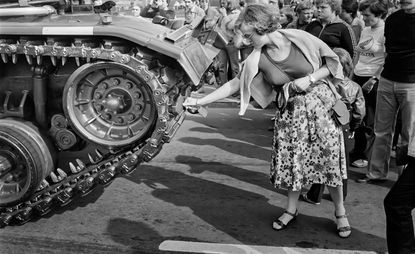 (Image credit: Rudi Meisel)
What do we think of when we conjure images of Eastern Germany during the last decade of the GDR, when Germany was at its most divided? Perhaps the famous photograph of an escapee leaping over barbed wire comes to mind; or homogenised cars and fashions, grim social housing, factory workers…

'Looking through my archive pictures from the time, I've realised that we remember life, well... not really as it was,' says Rudi Meisel, one of Germany's leading documentary and architectural photographers. An exhibition of his work at Berlin's major photography gallery, C/O (opens in new tab), seeks to change perceptions of life and style in East and West.

Titled 'Compatriots 1977–87: Two Germanys', the show plays with viewers' expectations of architecture, fashion and lifestyle in the communist East and capitalist West during the decade when tensions between the two sides of the Iron Curtain were highest. 'I wanted to show not the rich side on the West and the poor side on the East,' Meisel explains. 'I wanted to disturb this opinion. It's become a pervasive habit and remains so even now, not just here but all over the world.'

Meisel's photographs tell complex stories of life in the West, where he was from, often with an eye on socialistic art, German architecture and behaviour, along with touching scenes from poor areas and factory towns. In the East, meanwhile, he often encountered a strong sense of style and bustling, easy-going public spaces.

'I loved the East,' he says of his time travelling around East Germany for Zeit magazine. 'Immediately I wanted to tell [in the photos] that it is not only barbed wire and prison. I loved the people. Everyday life was like in the West. It was relaxing. People could laugh, they had their own freedom.'

Few professional images like Meisel's remain from the East. Taking photographs in public was considerably harder in the GDR than in the West. Meisel had to know weeks – even months – in advance what he wanted to see and when, and he always had a party official by his side.

Meisel's pictures are subtle and take time to unravel. His idea is that fashions, buildings and people should never be arranged together in obvious ways – they should leave room for complexity and doubt. 'Photography is always a projection,' he says. 'Photographs can be a mistake, tell the wrong story. You know those novels that begin with the notice, "If any of the events in this story resemble reality, it's not intended"? That notice should accompany all my work.'
Titled 'Compatriots 1977–1987: Two Germanys', the show plays with viewers' expectations of architecture, fashion and lifestyle in the communist East and capitalist West. The picture shows the site of a demolished station in the West. Pictured: Former Anhalter Bahnhof, T-junction, Möckernstraße and Hallesche Straße, Kreuzberg, West Berlin, 1980
Meisel's photographs tell complex stories of life in the West. This photo is of a very new autobahn, two weeks before opening – on the weekend, people would venture onto the fresh tarmac to look around. 'It's in Duisburg, and in the background you can see a very dirty steel company. I didn't know at that moment that it was more than a picture. This little boy has a toy but it tells the story of his possible future, that he might get out of that dirt,' the artist explains.
'This is what I wanted to have, not the rich side on the West and the poor side on the East, black and white, good and bad. No, I wanted to disturb this opinion, destroy this habit.'
'These girls were dancing on the pavement on Labour Day in Essen. It was ridiculous. It looks like the sort of street community event people expected from the East, but it's the West. The Western German unions arranged this, believe it or not, in the rainy weather.'
'It just shows boring houses of workers built after the war. I was interested that the art on the house looks like socialistic art. You can tell from advertising on the right, and the car, that this is the West.'
'This couple were celebrating their golden anniversary so I stayed with them for a week and photographed them for a book about family rites of passage. In fact, this was the day after the party. All the celebrations were over. Her hair is still done very well even though they have returned to the routine of their lives. It took my heart. At that moment I knew, "this is the picture".'
'This is a horse market in Havelberg, East Germany. It was free trade, so just at the edge of the GDR law. Really it was an excuse for people to drink. My guide was not happy when I took this photograph. These men are totally drunk.
'These are kind of the Elvises of Bottrop watching the football on the weekend. That's how the men pass the time of a Saturday. The guy on the left side with the white shirt is playing but having a break and, well, having a beer. I just love it, it's wonderful.
ADDRESS
C/O Berlin
Amerika Haus
Hardenbergstraße 22
10623 Berlin
VIEW GOOGLE MAPS (opens in new tab)