Clean lines: Tate Modern hosts Agnes Martin's skillful art of essentiality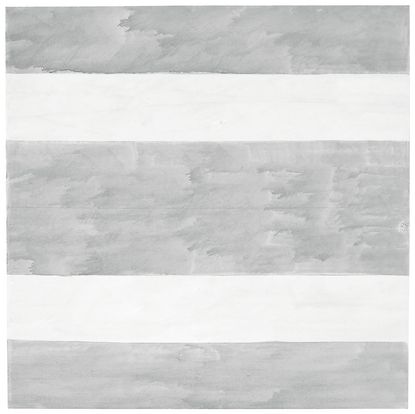 (Image credit: Courtesy of the artist and the Artists Rights Society (ARS), New York)
Tiny flecks of dust, nibs of paint or protruding knots in the weave of a canvas catch your eye as you follow the smooth, unerring lines of Agnes Martin across her painterly plains of colour. Something of an outsider, Martin grew up in Saskatchewan, Canada and only graduated from art school aged 40. She then retreated to Taos, New Mexico to paint and teach art, although Georgia O'Keefe, Mark Rothko and others had already found spiritual homes in the area.

The temptation is still to see aerial landscapes, parched fields and horizons in her early works, titled 'Beach' (1958) or 'Harbor' (1957). Yet anything resembling a tree or a sunset was very quickly replaced by simple grids of hand-ruled pencil lines and bands of pastel-pale reds, blues and yellows. There are still traces of never-ending fields and powerlines, earthy tans, taupes, khakis and ochres, but Martin went on to claim that her contemplative works were actually 'anti-nature'. Indeed, later pictures in Tate Modern's superb retrospective resemble nothing more than grey concrete slabs or grids of skyscraping windowpanes.

Martin was 'discovered' by a gallery owner in 1957 and encouraged to move to New York, where she straddled the still dominant school of Abstract Expressionism (she was the same age as Jackson Pollock) and the early seedlings of Minimalism, another boys-only club that she felt even less kinship with. In 1967 she quit the art world for an extended road-trip, ending up back in the desert in an adobe mud hut she built for herself. But making claims of unadulterated artistic naivety or isolated genius on her behalf just don't wash, if you will excuse the pun. Neither are these tasteful, abstract wall-fillers (although her prices are through the roof).

Martin was skilled, calculating - destroying many works she deemed below par - and often bold in her painterly constructions, as can be seen in the magnificent, crowning room of The Islands I-XII (1979), an immense series of blindingly brilliant, off-white harmonies stretching off into infinity. Elegant and tough, sure, but never effortless or easy on the eye, Martin's soft-edge abstractions and too-watery paintings still seem fresh 50 years on.
'On a Clear Day' (1973)'s title resonates with the light beige background given to the abstract work. The geometrical cubic repetition further emphasises this clarity, as the thin dark lines defining them creates negative space.
'Untitled 1977' highlights the use of both pencil and paint in Martin's work, as the pastel-coloured planes are firmly delineated by thin pencil-lines.
Friendship (1963) represents rigorous geometrical repetition on a yellowish background. Perhaps this abstract image echoes precisely the meaning Martin attributes to friendship: an elongated form of continuity.
This Untitled painting from 1974 unites six rectangular shapes, seemingly divided into three planes – the light red one in the centre being surrounded by two peripheral blue ones.
'Untitled' (1977) demonstrates both pencilwork and painting, highlighting the experimental nature of Martin's work. The concern to achieve perfect geometry is also present here.
Martin's 1959 Untitled painting clearly plays with the notion of texture, as the thick black and light grey lines separating the larger planes of the painting seem to simultaneously demarcate a technical change in the action of painting. Indeed, the former violet part seems rough, raw and fragmented whereas the latter grey portion appears to apply a fluid brushstroke.
The Heavenly Race (Running) c.1959, is composed of two distinctive halves: the upper half portrays elongated circular drawings while the second half is empty. This abstract representation of 'running,' as expressed by Martin's title, pokes our imagination and forces us to go beyond mere representative and pictorial reality.
Untitled #10, created in 1975, once again demonstrates Martin's technique and dual use of materials. The light pink and orange planes, in unison, possess relaxing qualities and are subtle to the eye.
Martin's 1990 Untitled work resembles an empty music sheet, with similar black lines and separation marks.
This special work, created in 2003, breaks Martin's traditional approach of ubiquitous horizontality. Here, two triangles are placed in the centre of the canvas, affirming their presence through the imposing colour black. The artwork now belongs to the Fondation Louis Vuitton in Paris.
Head and shoulders portrait of Martin at her house near Cuba, New Mexico, 1974. This phograph was taken after a seven-year period of nomadism Martin undertook, escaping the rambunctious city life by wandering numerous regions of the country in a pickup truck and camper.
ADDRESS
Tate Modern
Bankside
London SE1 9TG