Chris Shaw transforms the Californian desert into an otherworldly plane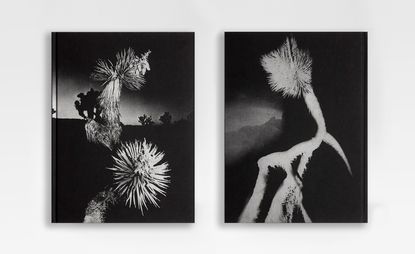 (Image credit: Chris Shaw)
Leafing through British photographer Chris Shaw's new photobook feels like entering a wormhole. Yucca trees flare like starburst galaxies and cacti radiate with an unearthly aura – Joshua Tree's arid landscape seems as alien and foreign as the surface of Mars.

Published by London-based Adad Books, Horizon Icons stems from a six-week long artist residency Shaw undertook in the middle of the Californian desert in the summer of 2013. 'I took all the photos between 6am–8am; after that it was too hot. The sun would come over the horizon like an arc light and suddenly it was too bright – too light,' the photographer explains.

Shaw would print for three hours every evening with an enlarger he'd shipped in, setting up a makeshift darkroom in the washroom of the rental. 'It was not an exact science, and the stains and fogging of a homemade darkroom were part of the magic,' he adds. 'Finally, at about 10pm, I would finish, go outside and get in the hot tub and look up at the stars.'

The Liverpool-born photographer is seemingly alone in the sprawling national park – save for his subjects (and alien companions), which take on a life of their own in his photographs. Joshua Tree, normally a rich tapestry of colour, is imagined as a far-flung and otherworldly terrain, while the surrealism of its geological features become amplified by a powerful flash in this series of gritty, monochromatic images.

Artist and singer Alison Mosshart introduces the book with a lyrical monologue, penned while driving through Joshua Tree ('Romantic bitch bastard desert is as hard as it comes. But it's love,' she muses). And it's a fitting preface to Shaw's rough and ready images, characterised by their bleeding edges, fingerprint marks, off-kilter frames and titles scrawled in thick black pen.

In Horizon Icons (which he dubs the 'Californian counterpoint' to Weeds of Wallasey), Shaw's images take on an almost photogram-like quality, as though he has pressed his desert specimens onto photographic paper and exposed them directly. Shaw gets beneath the surface of Joshua Tree, casting the desert in a whole new light.
INFORMATION
Published by Adad Books, £32, edition of 500. For more information, visit the publisher's website (opens in new tab)