Fiats, facism and futurism collide at Carlos Garaicoa's latest exhibition in Turin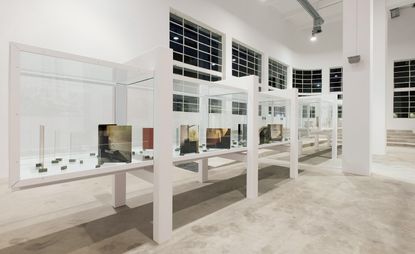 (Image credit: Andrea Guermani)
Fascism, Fiat and a utopian university meet at the Fondazione Merz in Turin, where Cuban artist Carlos Garaicoa has opened an exhibition that presents architecture as a metaphor for human hopes and failure.

'I was always fascinated about this link between futurism and fascism, especially coming from Cuba,' explains Garaicoa, who lives and works between Madrid and his hometown of Havana. 'There's a big connection [in Turin] between industry, war and fascism, and I wanted to think about that – the whole exhibition deals with the connection between art and ideology, how artisans, artists and intellectuals get involved with propaganda and politics.'

Exploring the history of the northern Italian city through its buildings, 'El Palacio de las Tres Historias' transforms the Fondazione Merz's vast space – once a Lancia heating factory – into a town square, from which visitors can take an elevated look at the city at different periods in its history and present, real and imagined. In the centre of the show is a double height, interpretative steel structure, that mirrors the architecture of the Fondazione.
'Initially I wanted to build a whole building inside the building here,' Garaicoa said. The steps he has installed to give the feeling of a town square are based on the Royal Stable in the centre of Turin, now the meeting place of the city's young political activists and thinkers.
In addition to the models that translate Turin's urban landscape into a pure form – including rationalist buildings and miniature Fiat cars from the 1940s and 1950s – the artist has also installed prismatic panels, recalling the 1950s billboard advertisements, once prominent in the city. Meanwhile an architectural maquette of an imaginary university campus looks to the future, with design plans detailing how the spaces would operate – inspired in part by the artist's own experiences teaching.
Downstairs, an animated video work references Hitler's hand gestures, so that they appear to be conducting a musical score by Olivier Messiaen, composed in a concentration camp. By stripping away their context, a new narrative emerges.
Asked why he chose to characterise the city in such an elemental way, Garaicoa said, 'You can read it clearly – I think it's wonderful to present things in this way.'
INFORMATION
'El Palacio de las Tres Historias' is on view until 4 February. For more information, visit the Fondazione Merz website (opens in new tab)
ADDRESS
Fondazione Merz
Via Limone 24
10141 Torino
VIEW GOOGLE MAPS (opens in new tab)
Charlotte Jansen is a journalist and the author of two books on photography, Girl on Girl (2017) and Photography Now (2021). She is commissioning editor at Elephant magazine and has written on contemporary art and culture for The Guardian, the Financial Times, ELLE, the British Journal of Photography, Frieze and Artsy. Jansen is also presenter of Dior Talks podcast series, The Female Gaze.