'By queers for queers': NGV hosts largest ever show of queer art in Australia
Celebrating Pride Month, we revisit our article on the major Melbourne show, 'Queer: Stories from the NGV Collection', which reveals how LGBTQ+ stories and histories can be told through art (until 21 August 2022)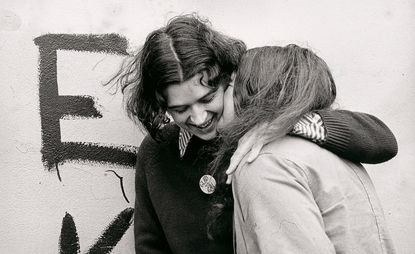 (Image credit: © Ponch Hawkes, 2018)
The National Gallery of Victoria (NGV), Melbourne, has unveiled a major new show examining and revealing how queer stories can be told through art. What began as a research project by curators following the controversial national plebiscite on gay marriage in 2017 has sparked an institution-wide reappraisal of its collections. The results can be seen in 'Queer: Stories from the NGV Collection', the largest queer exhibition ever mounted in Australia.
'Queer' features more than 400 works curated by an interdepartmental team at NGV. A broad sweep of history is reflected in objects from Ancient Greece to fin-de-siècle dandyism and emerging 20th-century queer activism such as Gilbert Baker's rainbow flag (first flown during San Francisco's 1978 Gay Freedom Day Parade) and iconic costumes by Melbourne-born artist Leigh Bowery. Works by artists who identify as queer are featured alongside artists who lived in times when such identification was not possible, as well as works by non-queer artists that have a connection to queer histories.
The exhibition features an eclectic collection of objects and artworks with big hitters such as Francis Bacon, Robert Indiana's Love screenprint and a dress worn by Princess Diana (celebrating her activism and compassion for people living with AIDS) sitting alongside emerging contemporary artists and designers. 'You can smell that this exhibition was curated by queers for queers,' says Melbourne-based designer James Lemon. 'It feels like a curatorial, acrylic-clad finger on the trigger for a show that's been locked and loaded for a while.' Lemon is exhibiting his experimental Slump Stool #1. The seat is a thick slab of clay shaped 'using my own bum cheeks and by the molten heat of the kiln'.

Hannah Brontë's work Umma's Tongue – molten at 6000° is inspired, according to the artist, by 'the magic of festivals, sweaty gay dance floors and chosen families… I want to honour all the powerful LGBTQIA+ humans who came before me and fought hard to revolutionise the representation of what it looks like to be us'. There is a sense of urgency from many of the featured artists that the exhibition is a timely and urgent public celebration of queer identity. 'Being part of this is for my people, my community, my BIG gay ass family!' says Brontë.
Scotty So's self-portraits made during Melbourne's recent lockdowns see the artist dressed in handmade costumes that reflect different pandemics in Hong Kong and Canton from the 1860s to 1960s, each with a matching face mask. 'The work not only talks about the recent pandemic and racial issues but also the gender identity of disguise under masks and make-up,' says So. 'I simply live as a queer person who happens to make art and perform.'

'For me, most important was capturing contemporary queer joy, as well as difficult and tragic parts of history,' says curator Myles Russell-Cook, NGV's senior curator of Indigenous art. On display are illustrations of queer Indigenous peoples by Dylan Mooney, a proud Yuwi, Torres Strait and South Sea Islander man who works across painting, printmaking, digital illustration and drawing. '[My work] looks at the struggles of living in a world that systematically devalues our culture and peoples,' says Mooney. 'These works reflect lived experiences with keen political energy and insight and love within our communities opening out issues affecting mob,' he adds.
The artworks in the exhibition reflect the multifaceted meaning and usage of the word 'queer': as an expression of sexuality and gender, as a philosophy, as a political movement, as a sensibility, as an attitude that defies fixed definition, as well as the impossibility of a single term to capture the multitude of lived experiences.
'I am interested in the way artists have used queer strategies in their work to challenge pre-conceived societal norms, whether that is dismantling ideas of high and low culture or disrupting ideas of masculinity and the patriarchy,' says the NGV's curator of contemporary art, Pip Wallis, citing works by Claude Cahun and boyfriends Jasper Johns and Robert Rauschenberg, amongst others.
From an institutional perspective, the exhibition also reflects on the gaps, strengths and idiosyncrasies of the NGV's collection, as well as broader concerns around collecting and exhibiting artworks. 'It feels like a public workshopping of the collection through the consideration of queer identity, theory and practice,' says Russell-Cook. It is a timely and important exercise for any gallery to undertake – especially one of the NGV's magnitude – and hopefully points towards a queerer future for collecting institutions.
INFORMATION
'Queer: Stories from the NGV Collection', until 21 August 2022, the National Gallery of Victoria, Melbourne. ngv.vic.gov.au (opens in new tab)