Bruges Triennial 2018: floating pavilions and a concrete gateway to the afterlife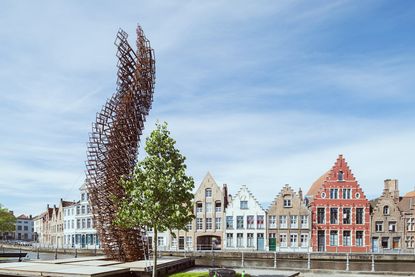 (Image credit: Iwan Baan)
In a city famed for its postcard-ready vistas and perfectly preserved historic architecture and waterways, the Bruges Triennial is a welcome burst of contemporary creativity and unexpected urban interventions. As you walk past a medieval almshouse or over a cobbled stone bridge you will suddenly see a tall curving Corten steel sculpture (by US artist John Powers), a narrow geometric bridge (by Polish artist Jarosław Kozakiewicz) or a sinuous organic bright orange and red translucent floating pavilion (that will become the platform for a public pool) by Spanish architectural duo SelgasCano.

For the Triennial's second edition, the theme 'Liquid City' is based on a concept by Polish-British sociologist and philosopher Zygmunt Bauman, who theorised globalisation and mass consumerism indicated a state of constant flux, fluidity, instability and transition. Though this could be construed negatively, he also believed humans were infinitely adaptable and flexible. To wit, the 15 invited artists and architects have responded to the Triennial's theme in vastly different ways, ranging from the literal – almost every installation or sculpture is located on or near the city's canals – to the more abstract or metaphorical, challenging the viewer to embrace a transformation, or even to become part of the creative process.
The latter is very much the case in German architecture firm Raumlabor's House of Time project that is slowly transforming an old industrial site in town with the help of young people who have so far built a treehouse, a hot tub, an outdoor garden and various spaces for learning and collective problem-solving. The Triennial's co-curator Till-Holger Borchert talks about the Triennial as an opportunity to create 'a more sustainable form of tourism' for the Flemish town of Bruges and become a magnet for 'creative thinkers and doers'. In a small city regularly engulfed by seven million annual visitors on whistle-stop European tours this is a welcome proposition.

Arguably the most interesting exhibit of the Triennial was not an installation or structure but a research piece on show in the renovated 14th-century Poortersloge (Burghers' Lodge). Here, Brussels-based design collective Rotor's contribution focused entirely on the Chinese mitten crab. With the help of videos, newspaper excerpts, photos, ship models and even live crabs, the architects explore how the crab arrived in Europe in the early 20th century via the ballast water of ships from China, its proliferation in European waters (including the canals of Bruges) and how it is viewed today.

'In one part of the world it's a delicacy, in other parts of the world it's a pest,' says Rotor founding partner Lionel Devliege. The arrival of new and invasive species in foreign locales is examined and perhaps most timely is a section of the show dedicated to the xenophobia and fear of Asia that has been projected on to this crustacean through the decades.
INFORMATION
Bruges Triennial 2018 runs from 5 May – 16 September. For more information, visit the website (opens in new tab)