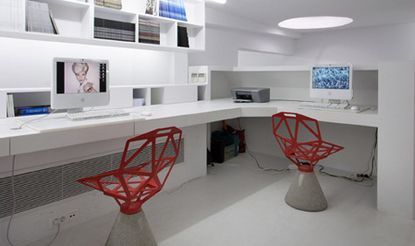 (Image credit: press)
While the Breeder Gallery in Athens has been in the centre of the Greek capital's art scene since 2002, when it was first established by co-founders George Vamvakidis and Stathis Panagoulis, with the new space deigned by Aris Zambicos GR405 architects the gallery will firmly put its mark in the city's architectural landscape too.
See more images of the gallery (opens in new tab)
The new gallery is located in the lively and upcoming Metaxourgeio area, in an abandoned 1970s ice-cream factory. The whole area has been undergoing great transformation in the past few years; most of the older run-down buildings are being transformed into upmarket loft-style apartments and people have been pouring in from all parts of the city.
So, what better choice of location could there be for the stylish Athenian art crowd's new haunt than a spacious, rough building, full of architectural potential, in a central up-and-coming urban spot?
The existing building was a sturdy concrete-frame cubic volume, its exterior shape largely dictated by building regulations, sitting in a long and narrow building block, which allows facades on both front and back streets. The architects designed the building with the use in mind, aiming for a space perfect for exhibiting art.
Visualising the whole shell as a continuous envelope, running from basement to terrace, the space carries careful detailing like sleek black handrails, window and door frames. It also has several functional elements, like the double metal doors, patio frames and the crane to move the sculpture but above all the architects planned the whole building as an elegant, uniform, mainly black, white and grey environment to provide a neutral background for the art.
'The final product can only be described as the end result of a complicated process involving finances, law, lawlessness, design, and lots of on-site, hands-on work,' explains Zambicos.
The Breeder moved into its new home this September, and the building was recently inaugurated, with the first show, a solo exhibition of works by German, London-based artist Daniel Sinsel. Spreading across four floors, and boasting over 550 sq metres of exhibition space, the Breeder is one of Athens must-visits.
ADDRESS
Iasonos 45

Athens 10436
VIEW GOOGLE MAPS (opens in new tab)