Breath is Invisible's powerful second installation lights up west London
Public art project Breath is Invisible has just unveiled its second outdoor installation in Notting Hill, a multisensory digital experience responding to the Black Lives Matter movement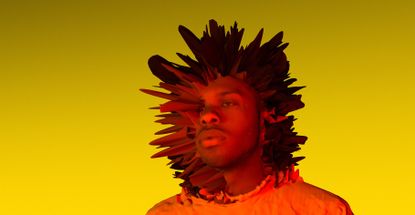 (Image credit: Breath is invisible)
Wallpaper* Newsletter
Receive our daily digest of inspiration, escapism and design stories from around the world direct to your inbox
Thank you for signing up to Wallpaper. You will receive a verification email shortly.
There was a problem. Please refresh the page and try again.
At a time when London's art institutions and galleries are tentatively coming back to life indoors, the Breath is Invisible public art project is taking urgent discourse on social injustice and inequality to the outdoor stage.

The three-month long initiative was founded by London-based patron and businesswoman Eiesha Bharti Pasricha and is curated by Sigrid Kirk. Kirk, who is co-founder of the Association of Women in the Arts, explains how the project was conceived from an urgent need to address issues of social inequality in London that have been exacerbated since the outbreak of coronavirus.

The project's West London location is particularly significant; its community has endured a great deal of trauma and change in recent years, namely the tragic Grenfell Tower fire in 2017 and the cancellation of Notting Hill Carnival this year – one of the city's biggest cultural events, which celebrates Caribbean cultures and beyond – for the first time in its history.
Breath is Invisible's first exhibition, which ran from 7 July - 7 August, saw the 236 Westbourne Grove location host nine powerful prints on its exterior walls by late British-Gambian artist, Khadija Saye. The monochrome silkscreen print series titled, in this space we breathe, spoke about the migration of traditional Gambian spiritual practices and honoured the artist, who, aged just 24, was a victim of the devastating Grenfell Tower fire. This first installation marked the launch of the Khadija Saye IntoArts programme, which confronts the lack of diversity in the UK arts sector by providing opportunities for young people from ethnic minority backgrounds and disadvantaged communities across the country.

The second instalment of the series, to be invisible, sees the building's facade adopt an emotive and immersive soundscape and digital rendering. The windows of the building will be lit up with artists Martyn Ware and Zachary Eastwood-Bloom's projections, which act as a visual and aural experience responding to the Black Lives Matter movement. The piece comprises a 3D rendering featuring actor Haroun Yamou, accompanied by a soundscape inspired by Curtis Mayfield's song To Be Invisible layered on top of an audio contribution from the young musicians of Amplify Studios, which champions young creative talent. Some of the sounds sampled include birdsong, buses passing by, protestors, sirens and a heartbeat.
Eastwood-Bloom, who originally trained as a sculptor, has specialised in 3D technology for the last decade. For this installation, he has taken a 3D scan of Haroun Yamou and used bio-feedback from the composition to create a generative digital 3D rendering. Martyn Ware, who is considered a pioneer in sonic muralism and expert in immersive design, created the soundscape with the aim of conveying an emotional state of the body. The emotive lyrics are intended to create a 'fever dream', a sort of meditative experience communicating the psychological effects of racism through sound and vision to all who pass by.

Next month, the third and final installation, Invisible Life Force of Plants, will see the photographer and artist Joy Gregory's prints take to the building's walls, exploring the narrative and origins of plants and their relationships with humans and ecology.
to be invisible, Martyn Ware and Zachary Eastwood-Bloom, soundscape and 3D generative video, 2020. Soundscape composed and arranged by Martyn Ware, Charles Stooke and Elena Ware. Video by Zachary Eastwood-Bloom. Inspired by the song 'to Be Invisible' written by Curtis Mayfield. Lyrics performed by Haroun Yamou. Additional sound by Amplify Studios at Rugby Portobello Trust. Mixed and 3D spatialised by Martyn Ware and Asa Bennett for Illustrious
INFORMATION
to be invisible, 11 August - 11 September
Invisible Life Force of Plants, 8 September - 9 October
ADDRESS
236 Westbourne Grove
London
W11 2RH
Receive our daily digest of inspiration, escapism and design stories from around the world direct to your inbox
Sophia Acquistapace is a contributor to Wallpaper*. She coordinated the brand's annual Handmade exhibition in 2019 and assisted with the introduction of Wallpaper* Re-Made the year after. Having written for a number of August issues that focussed on design that can enrich and endure, she has since been exploring accessible design in spaces and brands.