Berlin art exhibitions not to miss: an ongoing guide
Explore our ongoing guide to the best Berlin art exhibitions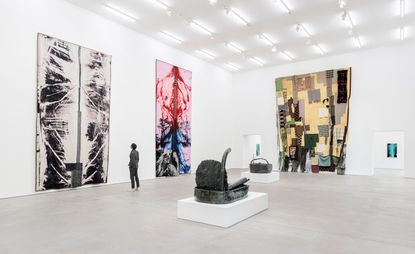 (Image credit: Timo Ohler and Ingo Kniest)
When it comes to art in Berlin, it can be hard to decide where to start, especially in a city famed for such a lively and burgeoning creative scene.
As with the recently opened Venice Biennale 2022, contemporary women artists are currently leading the way in Berlin, with institutional highlights being American art icon Barbara Kruger's takeover of the upper level of the recently refurbished Neue Nationalgalerie, local artist and former fashion designer Alexandra Bircken's nightmarish installation at the Kindl, and Candida Höfer's staggering portraits of vacant public spaces at Museum für Fotografie. Also not to be missed are Swedish sculptor Nina Canell's meditation on minerals, animals, and technologies at Berlinische Galerie, and Libby Heaney's musings on quantum physics at Schering Stiftung.
Following on from Gallery Weekend Berlin, we've collated some first picks to get you started:
Exhibition: 'Die Blüten von Berlin' (Petrit Halilaj & Alvaro Urbano with Annette Frick) Gallery: ChertLüdde Dates: until 28 May
Berlin-based artists Petrit Halilaj and Alvaro Urbano, who are partners in life, have worked together to produce pieces that reflect the polarity of built environments and natural spaces. Their show at Chert Lüdde, named after a song by late drag queen Ova Maltine, pairs their monumental flowers with Frick's intimate photographs of the queer and punk subcultures of Berlin. They have also created vibrant, two-dimensional artworks out of repurposed wallpaper from the recent renovation of the gallery space – which had been a decoration store for 70 years – in an additional nod to Berlin's history.
chertluedde.com (opens in new tab)
Exhibition: Xenia Hausner, 'Unintended Beauty' Gallery: König Dates: 29 April – 19 June
Austrian painter Xenia Hausner presents 12 new paintings exploring her idea that 'in art, terror is nothing but the start of beauty'. Hausner's defined but dream-like images take on new layers of meaning when we learn of her former career as a set designer. Hausner describes the people she paints being a part of her story. Her work is a theatre in itself, capturing intriguingly staged moments of fictional connection.
koeniggalerie.com (opens in new tab)
Exhibition: Sterling Ruby, 'In Warm Shroud. Kissing the Bloom Crux. A Frost Window.' Gallery: Sprüth Magers Dates: until 30 June
Sterling Ruby's wide-ranging new show captures the artist's ability to move seamlessly across mediums, resulting in striking and dizzying works that dominate spaces and immerse viewers. 'In Warm Shroud. Kissing the Bloom Crux. A Frost Window.' draws from themes of verticality, duality, craft, domesticity, and shifts in scale – notably in a series of new, monumental wall-based works for the show that blend the worlds of painting and textiles.
spruethmagers.com (opens in new tab)
Exhibition: Thomas Struth Gallery: Galerie Max Hetzler Dates: until 21 May
Spread across two of Galerie Max Hetzler's Berlin galleries, German photographer Thomas Struth's untitled show encompasses two bodies of work with juxtaposing aesthetics but interlinked themes. Bleibtreustraße 45 holds images of environments, from the tangled cable web of scientific research facility basements to the winter landscapes that Struth became familiar with across two years of pandemic-induced isolation. Across the road is Bleibtreustraße 15/16, which holds new additions to his 1985 Family Portraits series. The two spaces pay homage to the mutual experience of solitude, and the paradoxical unity we have all felt in more recent times.
maxhetzler.com (opens in new tab)
Exhibition: Ai Weiwei, 'The Pleasure of Home' Gallery: Neugerriemschneider Dates: 30 April – 14 May
Ai Weiwei explores a variety of mediums in his new show, which spans photography, film and images created from Lego. His starting point was a set of photographs he found on the shores of Lesbos, which are assumed to be lost by refugees on their journey to Europe. Ai welcomes the refugees into his creative and personal space by placing these images next to similar personal images of his own family. He then contrasts the playful medium of Lego with images of incarceration and military activity, and in doing so raises questions about social discourse and rouses the viewer to take a stand against violence and oppression.
INFORMATION
Gallery Weekend Berlin runs from 29 April – 1 May 2022. gallery-weekend-berlin.de (opens in new tab)
Martha Elliott is the Junior Digital News Editor at Wallpaper*. After graduating from university she worked in arts-based behavioural therapy, then embarked on a career in journalism, joining Wallpaper* at the start of 2022. She reports on art, design and architecture, as well as covering regular news stories across all channels.