Barry McGee sheds light on 'the other side' of Hong Kong
The San Francisco-based artist incorporates an eclectic array of media for his first exhibition with Perrotin, from painted surfboards to hand-thrown ceramics, obsolete television sets and found objects sourced during his stay in the city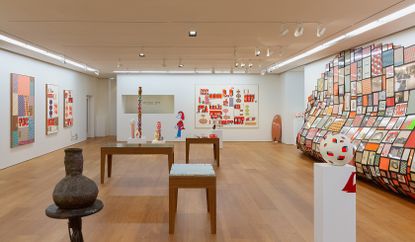 (Image credit: Ringo Cheung)
It is an interesting time for a street artist to be exhibiting in Hong Kong as protestors use the city's streets and walls as their canvas. But this is a visual language that American artist Barry McGee, now in his early fifties, knows well. A leading member of San Francisco's Mission School rooted in a working-class, largely Latino inner-city neighbourhood, McGee has long reflected on urban life though gritty found materials, colourful geometric prints and graphic archaic typography.

And McGee has retained his street reputation after achieving success exhibiting in galleries and museums both at home and on the international stage, where collectors are drawn to his curious juxtaposition of high and low art, rough and polished materials and found and made pieces. For his first solo exhibition in Hong Kong, McGee transformed Perrotin's pristine outpost into an eclectic immersive installation of new and archival mixed-media works.
These include an enormous 3m by 9m bulging 'boil' wall sculpture of more than 400 framed works, colourful totem-like and rustic wooden sculptures, glossy painted surfboards, ceramic vessels and plates and his trademark hobo caricatures based on the people on the street of his neighbourhood.

The smallest room in the gallery (which McGee refers to as the 'naughty room') is a highlight with an unusual net pattern neon sign made in Portland and the words 'Sound Wall' in steel chains, which the artist admits he cut from a fence erected near his studio with the intention of blocking residents' access. 'I like a touch of anarchy,' he says.
The installation took eight days to install and McGee made good use of his time, exploring Kowloon's industrial districts and surfing at Big Wave Bay – substantiating the exhibition's title 'The Other Side', which refers to both sides of the harbour. The artist says he had no idea how the exhibition would look until he got to Hong Kong and started arranging the pieces including bottles and plywood that he found on the local streets: 'It's a process of adjusting, eliminating and then starting again. I like things quite messy.'

In person McGee is quiet and shy, the opposite of his bright and colourful work. 'I just want people who come in to feel something, like when you discover something unexpected.' He need not worry; this is an exceptional exhibition and particularly worth visiting because McGee's raw and honest work reminds us of the palpable sense of tension between the street and the rarefied art world.
INFORMATION
'The Other Side', until 9 November, Perrotin Hong Kong. perrotin.com (opens in new tab)
ADDRESS
Perrotin Hong Kong
50 Connaught Road
Central