Street talk: Awol Erizku fills a conceptual gallery with work inspired by LA turf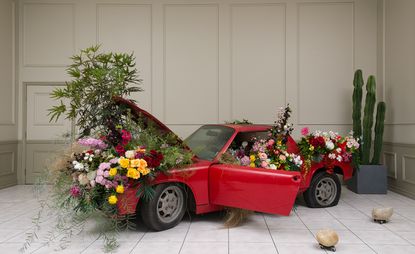 (Image credit: Jeff McClane)
If there's one thing LA has plenty of, it's detox clinics. But you won't find conventional therapies at The Duchamp Detox Clinic, where the cleansing is more esoterically observed.

The brainchild of 27-year-old artist Awol Erizku, The Duchamp Detox Clinic is a roving 'conceptual gallery' – a transient space showcasing the work of artists who aren't already represented and whose interests are in ready mades that repurpose objects with new ideas. The Clinic's first brick-and-mortar exhibit opened last week at the Everest Trading Corporation – a backpack and luggage warehouse in downtown LA's Arts District – in partnership with Night Gallery.

Ethiopian-born Erizku, who grew up in the Bronx and graduated from Yale's MFA programme in 2014, relocated his studio to LA a year ago. In 2015, he premiered his film Serendipity at MoMA, New York. At the end of last year, his 2013 photographs of sex workers in Addis Ababa, where the artist was born, showed at Flag Foundation.

Those previous public presentations seem to have little to do, either in medium or charge, with what you get at The Duchamp Detox Clinic, which is inaugurated with an Erizku solo show entitled 'Bad II The Bone'. Yet they share a common aesthetic of popping colours combined with assertively formal compositions. 'Bad II The Bone' is a conceptual journey crystallising the 360-degree experience of travelling through the sprawling neighbourhoods of the City of Angels.

Though the work on display includes both sculptures and paintings, this approach is manifested in a Porsche 914, salvaged from the desert and transformed into a giant planter, titled Ask the dust – an allusion to the contradictions of car fanaticism and clean living in the city. Simultaneously, large paintings with vigorous lashes of house and spray paint on plywood backboards, have a texture reminiscent of buffing, the process of painting over graffiti. In other pieces, too, the salient materials recall neighborhoods of the city: the plastic veneer used in pieces such as Skip, hop, trip, drop, flip, flop with the white tube sock, 2015, are a distinct reminder of the tents that line nearby Skid Row, while the numbers in Say It Here, While It's Safe, 2015, are in fact gang turf markings.

The markers and structures that delineate and divide up urban neighborhoods and built environments have always interested Erizku. Growing up in a housing complex in the Bronx, overlooking a basketball court where gangs would gather, the social and political implications of architecture became a natural fascination. While these works might reference such themes more obliquely, the titles – such as Black Americans Killed by Police in 2014 Outnumbered Those Who Died on 9/11, 2015 – highlight the artist's political objectives in no uncertain terms.
INFORMATION
'Bad II The Bone' is on view until 13 February. For more information, visit Night Gallery's website (opens in new tab)
Photography: Jeff McClane. Courtesy of Night Gallery
ADDRESS
Duchamp Detox Clinic
655 S Santa Fe Ave
Los Angeles, California
Charlotte Jansen is a journalist and the author of two books on photography, Girl on Girl (2017) and Photography Now (2021). She is commissioning editor at Elephant magazine and has written on contemporary art and culture for The Guardian, the Financial Times, ELLE, the British Journal of Photography, Frieze and Artsy. Jansen is also presenter of Dior Talks podcast series, The Female Gaze.