Artist's Palate: Leandro Elrich's chimichurri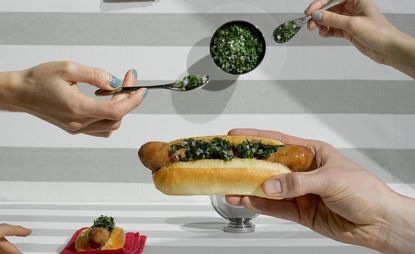 (Image credit: Benedict Morgan)
Leandro Erlich's interactive installations have included an illusory swimming pool that allows visitors to walk underwater thanks to a well-placed layer of glass, and a pair of escalators seemingly knotted like a pretzel. The Argentine artist is soon to take over a stretch of Miami Beach with 100 car-shaped sand sculptures, then let the public claw them apart. His take on the asado (the classic Argentine barbecue) has a similarly participatory element, requiring a merry band of helpers, a roaring fire, a string of sausages, bread rolls, and a chimichurri prepared by his collaborator Raùl. To ensure the chimichurri doesn't spill, the sandwich is best enjoyed, much like Erlich's art, with the head tilted 90 degrees back.

Culinary author Sylvia Gabet's account of the preparation
The Argentine asado is elsewhere called a BBQ party. For Leandro Erlich, the national dish of his country is a natural continuity of his work, happening in his studio, on the top floor, where there are replicas of his major pieces, such as Swimming Pool. For Leandro Erlich, the asado is a social and interactive act that makes sense.

To prepare a good asado, you first need to bring together people: encounters are what make human beings progress. You need an open space – Leandro likes that – to make a fire. Bring nice local meat to the grill: a particularly tender piece called colita de cuadril and sausages like Argentine chorizo are good. Then we need a specialist in embers and fire to ensure perfect cooking (at Leandro's studio, it's Raùl, one of his collaborators), a table with rolls split in half, salad, tomatoes and his famous chimichurri. In terms of implementation, it is not too complicated.

Raùl's chimichurri
Serves 8

Mix together 1 bunch of parsley, 1 bunch of coriander, 2 garlic cloves, 1 red onion, juice of 2 lemons, 2 tsp red wine vinegar, 4 pinches of pepper (chili, paprika or what you have at home), salt and 30cl of virgin olive oil.

When the meat is cooked, everyone serves themselves. It is informal and friendly: make a small sandwich with a lettuce leaf, a slice of tomato, one or two thin slices of meat and 1 tbsp of the famous chimichurri, while discussing with Raùl the composition of the sauce, for example. You close the sandwich, and then the best way is to throw your head back, even to lie down completely, so that the sauce does not flow out of the sandwich onto your clothes: you have to change your point of view, turn 90°, as in a work by Leandro Erlich. Then you taste one of those gustatory wonders that make you say to your neighbour, with a small sigh, 'That's good, isn't it?'

Thank you Leandro, Raùl, Ester, Anouk and the rest of Erlich's team for sharing this delicious moment.
A version of this article originally featured in the January 2019 issue of Wallpaper* (W*238)
INFORMATION
Sylvia Gabet's most recent book, What are we eating tonight? Special Kids is published by Editions de la Martinière. For more information, visit Leandro Elrich's website
TF Chan is a former editor of Wallpaper* (2020-23), where he was responsible for the monthly print magazine, planning, commissioning, editing and writing long-lead content across all pillars. He also played a leading role in multi-channel editorial franchises, such as Wallpaper's annual Design Awards, Guest Editor takeovers and Next Generation series. He aims to create world-class, visually-driven content while championing diversity, international representation and social impact. TF joined Wallpaper* as an intern in January 2013, and served as its commissioning editor from 2017-20, winning a 30 under 30 New Talent Award from the Professional Publishers' Association. Born and raised in Hong Kong, he holds an undergraduate degree in history from Princeton University.