Artist's Palate: Conrad Shawcross' roadkill Scottish venison and juniper berry stew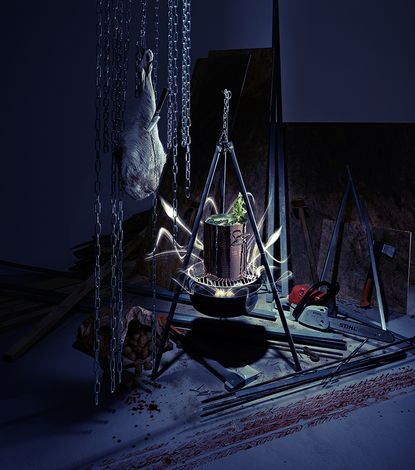 (Image credit: John Short.)
Conrad Shawcross' oeuvre – an out-of-the box blend of engineering ingenuity, precision mechanics, hardcore science and philosophy – sears both memory and imagination like the after image of a lightning strike. Who can forget the moment in 2003 when Charles Saatchi snapped up the-then 26-year-old's mechanical rope installation The Nervous System for £26,000? It's such a surprise, then, to discover how downright homey Shawcross' culinary tastes are. His venison stew calls for preferably roadkill, though even here, in his parsing of the law, he is unable to disguise his bent for precision. 'While it is illegal to take a deer you have hit with your own car,' he says, 'you can pick up deer that has been killed by others. It's important to avoid bad meat, so only use meat you find when there is a frost'.

Ingredients
1-2 cups vegetable oil
large cubes of venison - vary amount dependent on number at table
deuce of red onions (two), diced
1 fresh red chilli, diced
a brace of garlic cloves (two), diced
1 glass of merlot
a few cups of chicken stock, ideally freshly made a few days before
a skein of carrots, sliced
1 bay leaf
2 large handfuls of porcini mushrooms, sliced
a few sprigs of thyme
pinches of salt and pepper
juniper berries
2 bottles of Guinness
214 new potatoes

Method
In a large cauldron, heat a few tablespoons of vegetable oil till very hot. Brown the venison cubes in batches. Set aside each batch on a warm plate while you work on the next batch.
In the same cauldron, add more vegetable oil and sweat the onions, chilli and garlic. Add merlot and a few cups of stock.
Add carrots, bay, mushrooms, thyme, salt and pepper, and bring to the boil.
Add meat and juniper berries. Add Guinness until the liquid just covers the meat.
Lower heat, put the lid on, and simmer for 3-4 hours.
Ideally, the stew will be cooked a day or two before the meal and gently reheated two hours before serving. Add the potatoes an hour into the reheating time, so that they're not too soft.
The sauce should not be too runny, so reduce until thick. Alternatively, add a teaspoon or two of cornflour to thicken.
Serve with blanched kale and garlic.

As originally featured in the January 2016 issue of Wallpaper* (W*214)