Art14 cements its place on the international fair circuit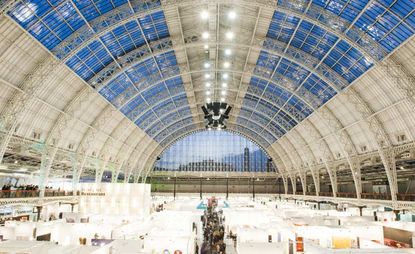 (Image credit: Written Light)
The London art fair Art13 debuted last year and generated enough enthusiasm and, one supposes, sales to return last week as Art 14 (opens in new tab). But you still have to wonder if London, and the international art collectors who bounce in and out of here, need another art fair, given it already has the all-convulsing Frieze. Art14 has found a nice early Spring slot in the international art calendar, sneaking in just before the Armory Show in New York, but does that justify filling it? What is Art14 for?

Well, judging by the rank of Rolls Royce Phantom's idling outside Kensington Olympia, its current venue, it is for the kind of big-spending, high-calibre collectors who drop GDP-sized sums during Art Basel and Frieze (the show's sponsor, Citi private bank, must think so). But luxury lifts alone won't get them here.

The show's sell to collectors is that it brings to London, the great global art hub, the best, or at least enough of the best, from galleries across Asia, the Middle East, Africa and South America. This is a showcase for art's emerging markets, designed to appeal to the collector who wants to add something new and different and a little high-risk to his or her portfolio/collection. There were 180 galleries represented from 38 different countries and from cities such as Lagos and Bangalore whose art infrastructure is as under-resourced as its transport infrastructure. And as the organisers of the show understand, the two things are not unrelated.

Alongside the main exhibition, Art14 scheduled a number of talks around the idea of 'Art & the City'. One of the them, titled 'Private Colloquium' was an 'invitation-only discussion bringing together art hoteliers, luxury brand CEOs, curators, collectors and private museum holders to explore how the private sector is leading the way in reshaping cities through art - socially, economically and culturally'. Money follows art. Money can change things. Money brings demand, which demands supply and infrastructure.

This logic made Art14 far more than a random grab of global galleries, an exotic taster for collectors waiting for the main course at other fairs. It was an attempt to channel the regenerative power of asset-class art on a global scale, to irrigate and direct attention and money into new places. The artists and the gallerists again cast, in all senses, as the lure with property developers and luxury goods companies waiting on the banks to see if enough of the right kind of fish are biting.

That context, that charge makes Art14, in some ways at least, a far more interesting show than the more established exhibitions. Is this the art to generate micro-booms around the world? There's another way of looking at it and imagining Art14 as the fall back for galleries, local and international, who can no longer, or never could, get a slot at Frieze. And even that provides its own interest. It's a chance to look at what's going on outside the increasingly sealed-off mega-gallery/mega-fair/mega-collector/mega-artist/mega-money trading floors. It's actually open for business.