Frieze Art Fair London 2013: the Wallpaper* edit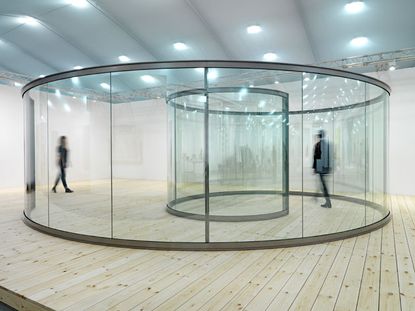 (Image credit: TBC)
Frieze directors Amanda Sharp and Matthew Slotover had promised a visitor experience closer to civilised this year (see our November issue). And it was closer. The aisles were wider, the food was better, stands were bigger. You could actually spend quality time with some pieces (though Ron Mueck's 'Woman with Shopping' at the Hauser & Wirth stand drew constant queues of people trying to get close, like a Madonna drawing the faithful, which is what she is).
The art on show here is still, inevitably, a mix of good, bad and indifferent. And even if there has been a shift to more considered and curated presentations, the sheer randomness of it all makes for dizzying disorientation (The Focus area, reserved for younger galleries showing pieces commissioned for Frieze, had more, er focus. And we enjoyed the playfulness of the site-specific works shown at Frieze Projects).
See highlights from sister event, Frieze Masters 2013, and the exhibitions across London
It may also be largely beside the point. This is one of three or four times a year when the seriously rich slow down and gather just long enough in one place to drop serious cash. It is never going to make for dignified spectacle. Fascinating but never dignified. Frieze, perhaps more than any of the other of the major fairs, is where the ritualised dance around the cheque books is most on display, most vividly laid bare (even if most of the serious players have done their business long before the rest of us are let in).
And yet the feeling remains that, whatever their intentions, Sharp and Slotover (and the other big fair organisers) are riding an out-of-control and heavily-botoxed bull that may crash into a wall at any moment. If one serious collector, a François Pinault or similar, suddenly decided they had had enough of the whole circus and cashed in their art assets, determined on doing something more useful with the money, would the whole market go into a death spiral? Or would others just move in, literally pick up the pieces, and keep things profitably spinning? We will see.
Meanwhile, we've pulled together a selection of what is still on view - if not up for grabs - this weekend, from a couple of new Chris Ofilis' at David Zwirner to Dan Graham's walk-in 'Groovy Spiral' at Lisson Gallery.