At Art D'Égypte, contemporary artists are reimagining ancient world narratives
Egyptian heritage is explored in site-specific works across four culturally significant locations in Cairo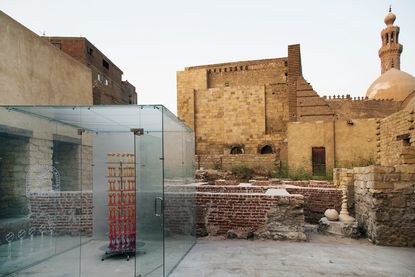 (Image credit: Abdallah Dawestashy.)
Cairo is the best kind of chaos: a cacophony of honking horns tempered by the ethereal calls to prayer, remarkable traffic jams and intermittent plumes of spicy scents. Twenty million inhabitants thrive in a patchwork quilt of architecture, where every ruler from Fatimid to Ayyubid, Mamluk to Ottoman has left their stamp. Cairo seems to be playing a game of what's worthy of preservation and what is left to crumble, but one arts initiative is doing its best to ensure the dice rolls in favour of the former.

Al-Muizz is the city's oldest inhabited street. As in bygone eras, merchants hard-sell their wares from worn shop fronts – all conceivable variations of hookah, endless reels of fabric and every spice under the burning sun. This is not necessarily a place you'd expect to find a mass assembly of contemporary art world pageantry, but for its third annual iteration, art consultancy, initiative and self-proclaimed 'cultural operative' Art D'Égypte takes to the kilometre long Al-Muizz stretch with a new chapter, 'Reimagined Narratives'.
This year's edition falls under the patronage of UNESCO, auspices of the Egyptian Ministry of Antiquities and marks the second year of official partnership BMW Group, who have actively supported more than 100 cultural initiatives worldwide in the realms of modern and contemporary art, architecture and design, alongside jazz and classical music events. For Art D'Égypte, it's in with the old as much as the new. 'I think this is a revolution. Now people worldwide are going away from exhibiting in white cubes,' says curator and founder, Nadine Ghaffar. 'We have such an abundance of heritage sites, who cares if we don't have money to get institutions. We have something even prettier.' We voyaged to Cairo to find 28 contemporary Egyptian artists rewriting the rules, reinterpreting their 5000-year history, and reappropriating four key heritage sites to offer this corner of the ancient world a new lease of life.
Qalawun Complex
The first stop on the pilgrimage was built in 1284 AD and hosts a mosque, former hospital, madrasa and mausoleum. As you might imagine, installing art inside a mosque isn't standard practice. Unlike churches, which can be deconsecrated and repurposed, mosques are mosques, until they crumble. 'At the beginning of this project they didn't want to let us in. They said, "No, it's a mosque." Now the director of the complex is so happy he even wants us to put art in the tomb of Qalawun!' Ghaffar exclaims. The first intervention we encounter is Ahmed Askalany's enormous palm leaf and terracotta sculpture, dangling from the rafters like drooping prayer beads.
Further in, Mohamed Shoukry's enormous cotton wool cloud presides over mirrored cylindrical structures reflecting the metaphorical 'circulation' of Islamic worship. Huda Lutfi responds directly to the Qalawun's 13th-century hospital, where patients were treated with a progressive mix of music and hydrotherapy. Her installation, including archival manuscripts of experimental treatments and a solitary bed stationed in one of the old dormitories stands for 'remembrance, anticipation, silence and mortality.'

The smallest piece here, by Ghada Amer, is perhaps the most provocative. At first glance it's a traditional burqa, the most conservative of Islamic veils strung up inside a glass box. But this piece is made from delicate Bayeux lace; synonymous with underwear and sensuality, and made by an artist known for defying conventions with heavily sexualised paintings. The point of the veil that would cover the mouth is embroidered with the Arabic word for 'fear'.
Bayt Al-Suhaymi
This Islamic-themed Ottoman house, built in 1648, embodies the essence of noble Cairene domesticity. The network of reception rooms and centuries of decorative styles are both a feat of handcrafted design and a window into historic mentalities – elaborately carved screens overlooking the central courtyard were constructed to allow women of the household to enjoy the view without being seen by guests.

Here, Amir Youssef breaks the serenity with a metallic, whirling spinning top that mimics the movements of a tanoura dancer. Ibrahim Ahmed fashions sculptures from Cairo's discarded objects, including a chandelier, window frame and prosthetic leg referencing the societal tendency to hoard unused materials on rooftops through fear of financial insecurity.
Muhib Al-Din Hall
Inside another elaborate Mamluk residence and '13th-century party house', Sherin Guirguis has installed a duo of sculptures inspired by Nobel laureate Naguib Mahfouz's Cairo Trilogy, an epic mapping of Cairo's post-colonial fall and rise. These plywood structures, channelling the forms of traditional Arabic jewellery, rock back and forth to 'reference a woman's body as she walks down a public street.' Marianne Fahmy's striking acrylic and epoxy resin sheets, inspired by water graphs hang in eerie suspension and shed a very iridescent light on environmental consciousness.
In a different mood, Heba Amin presents a handwoven jacquard rug, which chronicles the first photograph taken on the African continent. The image, taken in 1839 Alexandria and purely architectural, apparently stirred up erotic fantasy in the French colonial mind due to the inaccessibility of the North African female subject. The geography of the photograph alone was enough to imply feminine themes through the 'voyeuristic gaze of the technological device'.
Maq'ad mamay al-sayfi
Constructed in 1496, this is a structure that's survived almost impeccably through continuous use. Its imposing arches and stately columns made for an elegant Burji dynasty-era bolt hole, later repurposed as an Ottoman court and jailhouse. Ahmed El Shaer uses the latter as a virtual reality playground. This culminates in a piece exploring the 'conceptual universe' of painter Abdel Hadi Al Gazzar as a 'hybrid space'.

Medhat Shafik has taken Imhotep, a physician and alleged architect of the Djoser's step pyramid as his muse, as well as the Al-Muizz street itself. The Wise Man's Shop combines ancient medical forms with vessels and vibrant fabrics, mirroring the bustling row of traders on the streets outside. It's a stand against certain types of globalisation, or as he puts it, 'To know the past is to have a dynamic identity which opens itself with the world and to the unknown by deciphering, synthesising and amplifying shared values.'
INFORMATION
'Reimagined Narratives', until 9 November, various locations on Al-Muizz Street. artdegypte.org (opens in new tab)
Harriet Lloyd-Smith is the Arts Editor of Wallpaper*, responsible for the art pages across digital and print, including profiles, exhibition reviews, and contemporary art collaborations. She started at Wallpaper* in 2017 and has written for leading contemporary art publications, auction houses and arts charities, and lectured on review writing and art journalism. When she's not writing about art, she's making her own.