Art Basel Miami Beach 2014: big-ticket artists and collectors bring the Floridian fair to the fore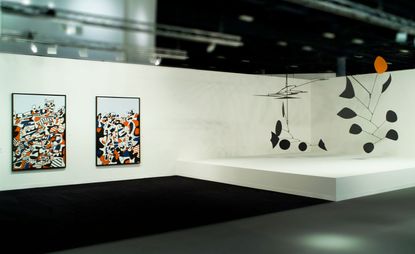 (Image credit: press)
Visitors to Art Basel in Miami this week didn't have to walk much beyond the entrance to get the message that the fair was taking its art seriously. On the left, at Helly Nahmad's booth, an enormous black Alexander Calder mobile, 'Rouge Triomphant' (1959 -1962), was elegantly housed in its own white space – a spectacular piece with an equally spectacular $35million price tag.

Straight ahead, at Galerie Gmurzynska, a $1million Picasso fresco was attracting attention. The Swiss gallery, celebrating 50 years in the business, had brought in Baz Luhrmann (much in evidence, and looking joyfully younger as the years go by) to curate its birthday exhibition. The Australian director had made some classy choices, including a delicate Yves Klein 1961 fire painting where the trace left on the paper had an almost Brâncuși-like form.

After these grand gestures, the fair returned swiftly to the present day. At Sadie Coles, a ceiling installation comprising 1080 plaster 'raindrops' by Urs Fischer filled the booth with drops of colour graduating from green to yellow. At Gavin Brown Enterprises, eight garish paintings by the ever-eager-to-shock Bjarne Melgaard – all punkish voodoo faces and big dicks – had sold in the show's opening hours at $45,000 a pop. (Melgaard had gone and spent a share of the profits at the Mr Nobody and Mr Somebody pop-up store in the Design District where fashion designer Bernhard Wilhelm's back catalogue was on sale.)

Meanwhile, Swiss gallery Hauser & Wirth made a tactical nod to North America, where it will open a dazzling new space in Los Angeles sometime next year. 'We're showing America at its finest,' said Iwan Wirth, of Los Angeles artists Diana Thater and Mark Bradford, while Paul McCarthy's 'White Snow, Bambi' eclipsed the lot – a three-metre high tangle of pigs heads, hooves and human faces telling a hallucinatory X-rated fairy tale.

Over at Kavi Gupta Gallery, one of Mickalene Thomas' fanatically detailed 1970s room sets was functioning as an artwork/resting place for tired visitors. 'Bringing this to Miami was a labour of love,' said Gupta surveying the scene. Thomas' mission is to tell the story of Black America, and to freeze frame the minutiae of daily life. These included a pair of Crocs in highly polished cast bronze – quite possibly the first time that this footwear has looked even vaguely desirable.
ADDRESS
Miami Beach Convention Center
1901 Convention Center Drive
Miami Beach
VIEW GOOGLE MAPS (opens in new tab)