The photographers who documented skateboarding's roots at breakneck speed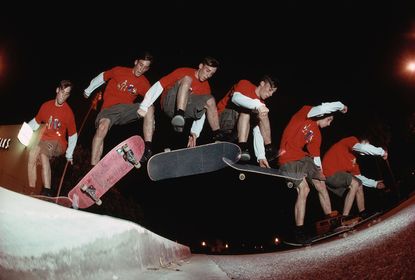 (Image credit: TBC)
Skateboarding was born out of surfing, and if the later sport is an attempt at dominating the indomitable surface of nature, skating is about conquering urban terrain. In the 1970s, when surfers bored by flat oceans began to take over the abandoned architecture of Southern California, it hardly seemed possible that skating could turn into a worldwide phenomenon, and even an Olympic Sport.

Yet with the public space becoming more crowded and surveilled, skating is being pushed away from its subculture roots. Perhaps that's one of the reasons Jamie Marie Davis and Frankie Shea have decided to remind the world where skating has been – and what it's done for our visual landscape – curating a touring exhibition, 'Against the Grain: Skate Culture and the Camera', that goes back to skating's roots, and pays homage to the photographers who were there to document it at breakneck speed.
Some of those names are well-know: Spike Jonze, known for cult films like Being John Malkovich and Her, started out shooting skaters in the US, and founded the now iconic skateboard label, Girl Skateboards, in the early 1990s. It was one of his earliest skate films, Video Days, originally shot as a promo for Blind Skateboards, that launched Jonze's career as a filmmaker.

Others are unsung outside of skate. Welsh photographer Skin Philips has mythologised pro-skating with his camera since the early 1980s, shooting skaters like Mark Gonzales, Steve Caballero and Nicky Guerrero; Wig Worland, who founded Sidewalk magazine, (one of many publications dedicated to skating and its culture included in the exhibition) is another of the artists featured who has contributed to creating the history of skating and the idea of skate photography as an art form.

In addition to the main show, From Palace to Palace is a six-part installation at South London skate spots, organised in conjunction with Art Night and the Hayward Gallery.
INFORMATION
'Against the Grain: Skate Culture and the Camera' is on view until 22 July. For more information, visit the exhibition website
ADDRESS
15 Bateman Street
London W1D 3AG
Charlotte Jansen is a journalist and the author of two books on photography, Girl on Girl (2017) and Photography Now (2021). She is commissioning editor at Elephant magazine and has written on contemporary art and culture for The Guardian, the Financial Times, ELLE, the British Journal of Photography, Frieze and Artsy. Jansen is also presenter of Dior Talks podcast series, The Female Gaze.