Star gazing: Adrián Villar Rojas hides a constellation of works at Athens' Observatory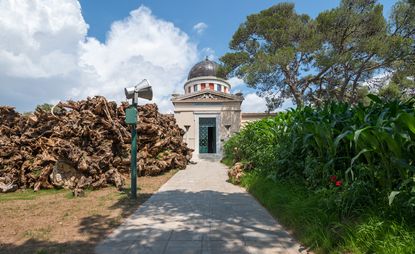 (Image credit: Panos Kokkinias)
Stargazing requires looking upward, but Adrián Villar Rojas' newest installation at the National Observatory of Athens draws attention back down to earth. Wandering through the latest edition of his series, 'The Theater of Disappearance', is a spiritual experience that bridges earth and sky, the past, future and present, internal and external worlds.

For the project, commissioned by the Greek contemporary art foundation NEON, the Argentinean artist has transformed the observatory museum and the nearby Hill of Nymphs. A Latin inscription on the Observatory declares that the place is 'to remain as it is', but Villar Rojas, known for his surreal sculptural interventions, disregards that command.

The artist has sowed a veritable jungle of 26 plant species, including corn, melons, artichokes, wild grasses and bamboo. The vegetation has taken over the hill, swallowing statues, and will continue growing wild until the show's end in September.
Villar Rojas unifies the observatory with its hill, utilising an area usually ignored by staff and visitors. On one side of the hill, the path through the vegetation abruptly gives way to a loose dirt slope. Known as the 'war zone', the hillside and its caves – some challenging to reach – host 11 large vitrines.

In one, a graffitied Winged Victory of Samothrace lies on her side. Butterflies flit around a Mars rover (the Red Planet dirt juxtaposed with green trees seen through the vitrine). Some displays mix timeframes. One features an astronaut's suit lying with a saber. Each presents a rearranged narrative of history, commenting on the violence of humankind's drive for conquest. Finally, as though entering another dimension, the domed observatory becomes a temple; a sanctuary to contemplate the contrast of lush vegetation and the vitrines' stark images.

Villar Rojas has removed almost everything from the museum, keeping a curated slew of noble objects such as handsome telescopes and old tomes. Wandering through the heavy curtains is meditative, while the ancient instruments quietly pull you in to peer into space's unknowns.

Only the irrigation system Villar Rojas installed will remain after the project ends. Until then, the non-native plants will continue conquering the hillside, shrouding existing monuments, obscuring perspectives, and taking over a home that is not theirs. This is 'The Theater of Disappearance' after all.
INFORMATION
'The Theater of Disappearance' is on view until 24 September. For more information, visit the NEON website (opens in new tab)
ADDRESS
National Observatory of Athens
Athens 11810