Abu Dhabi Art heats up as the world's gallery giants come to town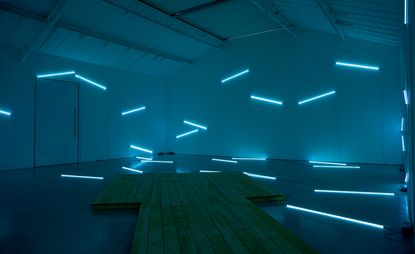 (Image credit: Courtesy of Kamel Mennour)
Committed to the boutique approach that has characterised the fair for all its six years, Abu Dhabi Art (opens in new tab) welcomed fewer than 50 galleries last week. That included 17 galleries from the MENA region and 29 from the rest of the world, including Lisson Gallery, David Zwirner and Hauser & Wirth.

Yet the influence of the world's gallery giants was palpable. The fair's home base of Saadiyat Island has been positioned as the Middle East's preeminent cultural hub, and the Louvre and Guggenheim, both coming to town (in 2015 and 2017 respectively), loomed large on the horizon.

Abu Dhabi Art kept pace with the anticipation, asserting its stature in ways other than size. Dubai-based Gallery Isabelle van den Eynde (opens in new tab), which represents some of the Middle East's most influential and innovative artists, has shown at the fair since its inauguration as Artparis - Abu Dhabi in 2007 and witnessed its evolution in tandem with the city's ambition. 'The museum infrastructure on Saadiyat Island is starting to look more and more like reality,' says artistic director Christopher Lord, 'and this is encouraging international galleries to bring big, museum-scale pieces.'

The complementary programme of performances, seminars and installations was comprehensive, with unexpected quality and diversity. The presence of Patti Smith, Richard Long, Ernesto Neto and Jean Nouvel was a curatorial coup, and went some way to establish the Emirate's burgeoning cultural credentials.

The city's ambition was further underscored by the concurrent opening of 'Seeing Through Light' (opens in new tab), a pre-exhibition that debuted works from the Guggenheim Abu Dhabi's expanding collection. The timing of the show demonstrated the relationship between the existing fair and the Emirate's future cultural landscape.

Emphasis was rightly placed on the meaningful engagement of both local and international audiences, fundamental to long-lasting cultural growth. Alanood Al Hammadi, senior exhibitors relations co-ordinator for Abu Dhabi Art, attests to this importance. 'The city does not currently have a museum to present modern art,' she says, 'so we are effectively setting the contemporary stage for the future Saadiyat Island institutions.'

Taymour Grahne (opens in new tab), a popular Middle Eastern art blogger turned gallerist, was awarded this year's Bidaya (opens in new tab) in recognition of the international impact he's made with his eponymous New York gallery. 'The major museums, a growing art-going public, a world-class art fair that attracts some of the best galleries in the world and many incredible private and public collections being built in the city - there is a recipe for something very interesting,' he says of the festival's future.

Amid Saadiyat's cranes, Abu Dhabi Art is a barometer of the city's capacity to assert its cultural significance regionally and internationally. And it promises much.