A moment for Oswaldo: Bogotá's Museo de Arte Moderno hosts seven-decade Vigas retrospective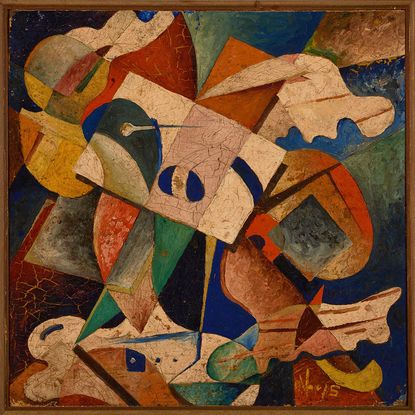 (Image credit: Oswaldo Vigas)
When the late Venezuelan artist Oswaldo Vigas lived in Paris from 1952 to 1965, he became close to several internationally recognised names, including Fernand Léger, Max Ernst, Wifredo Lam and, significantly, Pablo Picasso. 'Picasso was absolutely curious about all his work,' recounts Vigas' son, Lorenzo. 'He wanted my father to show him everything, but my father used to tell me that he preferred not to.' The Spaniard encouraged Vigas to reflect on notions of ancestry in his work; not long after, the features of the faces found in Pre-Columbian art began to show up in his paintings. After returning to his native Venezuela with his wife Janine in the mid-60s, Vigas would soon cement his position as one of the country's most important artists; but because of this move, he also failed to gain the worldwide fame and traction of his contemporaries in Paris.

After Vigas died in 2014, at the age of 90, his family made it their mission to increase awareness of the artist through the Oswaldo Vigas Foundation and began exhibiting his work internationally. On 16 July, 'Antológica 1943–2013' opened at Bogotá's Museo de Arte Moderno. On view until 23 August, the exhibition is a retrospective spanning seven decades' of Vigas' work, featuring dozens of paintings and sculptures, and revealing his affinity for the female form and his strong, gestural style. Beginning with the abstract 1943 piece Composición IV
– made when the artist was just 20 years old – to pieces he produced in his eighties, the exhibition displays Vigas's talent for colourful abstraction and includes key pieces such as the 1951 painting Bruja Infante and 1953's Proyecto Para Mural en Verde, a bold green and blue constructivist piece made for the famed Universidad Central de Venezuela.

Vigas was an artist in the purest sense. 'He was interested in creating,' says Lorenzo. 'He was not interested at all in spending time promoting, just being an artist.' Hopefully, through the exhibition, which will relocate to São Paulo next spring, Vigas's oeuvre will receive the attention it so rightfully deserves.
ADDRESS
Museo de Arte Moderno
06, Cl. 24
#6A, Bogotá
Colombia
Receive our daily digest of inspiration, escapism and design stories from around the world direct to your inbox