Lumber in the limelight: the 2016 Wood Awards winners are announced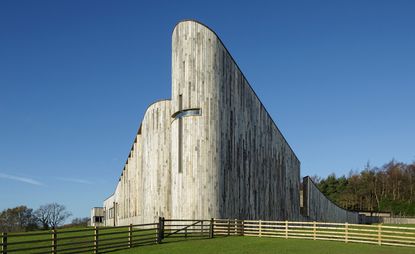 (Image credit: TBC)
This year's Wood Awards pick out the most interesting projects in British architecture and product design which have used the material in a maverick way. From a centre for recovery, to an abbey for nuns and a peacefully winding walkway across a valley to an arboretum, this 45th edition of the awards sees a selection of the most sensitive projects to date.

Highly sculptural and conscious of the landscape, Feilden Clegg Bradley Studios' Stanbrook Abbey won the Education & Public Sector Award for its organically sloping structure and detailed interiors. The building will provide a new home for a community of Benedictine nuns, who chose the remote location on the edge of the North York Moors.

Another project assimilating with its surroundings was the Stihl Treetop Walkway in Westonbirt Arboretum, Gloucestershire, designed by Glenn Howells Architects, which won the Commercial & Leisure Award. The walkway, which stretches to 300m, leads across a valley in a contemplative form which ebbs and flows through the treetops, elevated from the forest floor with scissoring timber legs made of Siberian larch.

Replacing a house in the heart of a protected landscape area in the Peak District, Sanei Hopkins Architects' Contour House was chosen as the Private Award winner. The design used American white oak and European oak to create a lighter structure in an area where stone is the most prevalent building material.

Foster + Partners' Maggie's Centre, a Manchester retreat for those who have been affected by cancer, won the most prestigious accolade – the Arnold Laver Gold Award – as well as the Structural Award, for the building's lightweight timber lattice structure which supports the roof in a diagonal formation, while also partitioning the interior and connecting the architecture to the outdoor space and gardens.

With a growing interest in reusing and reworking architecture, the Existing Building Award went to Ansty Plum in Wiltshire, for which architect Coppin Dockray revamped a mid-century house.

Transforming a Grade II* listed manor house in north Devon, the Portledge Rear Staircase was announced as the interiors winner, designed by Witcher Crawford Architects for the house's medieval service wing.

Other winners included 'Twist', a project first shown at the Timber Expo in 2015, designed by Emergent Technologies and Design using birch ply; 'Pantori', a freestanding pantry larder created for Japanese crepe eatery Nojō and designed by Steph Leake, an intern at Jack Badger; 'Planks Collection' a multi-functioning table designed by Max Lamb; 'Stretch Extending Dining Table' by Pengelly Design; and the two Student Designer Awards went to Michael Stevenson and Jan Waterson.
INFORMATION
For more information, visit the Wood Awards website (opens in new tab)