Winning big: Rotor founder scoops the 2015 Maaskant Prize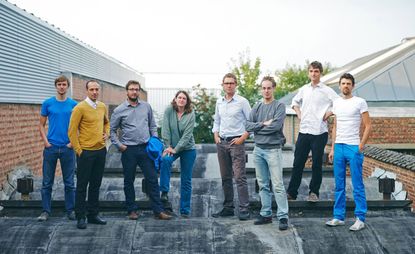 (Image credit: Benjamin Brolet)
Sound the gong – Maarten Gielen of Rotor has just been awarded the Maaskant Prize for Young Architects 2015 in Rotterdam. The co-founder of the renowned Brussels design collective is the worthy recipient 'in recognition of the way he explores the theme of material flows, translating it into concrete designs that convey a poetic message and, at the same time, confront the public with current social issues', explains the jury.

The biannual Maaskant Prize, chosen by a different panel of three judges every time, alternates with its namesake 'older' sibling (which is awarded to a more established architect every other year).

In 2015, the jury was looking for a 'talent under 36', to be approved by all board members unanimously. The winner not only met the foundation's primary criteria, but was also someone whose work, the panel felt, reflects and influences the current economic, cultural and social climate, helping to set the field's agenda.

'The economic crisis poses a new reality for the younger generation [of architects]. How can architects help to solve global problems such as climate change, food shortages, social inequality and vacant real estate?', asked the jury members.

'At the same time, the crisis is also opening up opportunities – unleashing new energy and impetus among architects. Job shortages unexpectedly create space – to reflect, to dream and think "Where do we go from here?" We were looking for architects with a standpoint inspired by a sense of critical optimism, people who were not afraid to venture from well-trodden paths, and who understood the need for experiment, especially now.'

Rotor, a collective founded in 2005 by Gielen, Tristan Boniver and Lionel Devlieger, currently comprises nine members of staff, all driven by a shared fascination for material flows. In their hands – in re-contextualising the things we take for granted and presenting them from a fresh perspective – reuse, recycling and waste material have been given new meaning.

Projects that helped Rotor shoot to fame include the 'OMA/Progress (opens in new tab)' exhibition at the Barbican, where they turned the studio inside out – even using rubbish salvaged from waste bins – to establish a personal connection and showcase projects that provide insight into the firm's design processes. The very successful 2013 Oslo Architecture Triennale (opens in new tab), entitled 'Behind The Green Door', was also their brainchild. The project challenged the catchall concept of sustainability by means of presenting 600 'green-labelled' projects as conversation pieces.

'The designers are empathic but their work is light, not cumbrous', added the jury. 'We see this as an attribute because it makes the work accessible to a wide audience.' Their ability to unveil the poetry in the commonplace and to create interventions that make us look, means that this is just the start for the inspiring practice.
INFORMATION
For more information, visit the Maaskant Prize's website (opens in new tab)